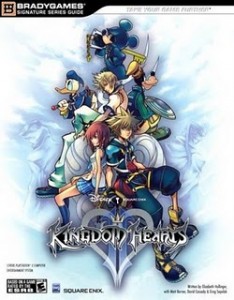 The strategy guide for Kingdom Hearts 2 will unfortunately sit and gather dust for most of the time while playing the game, and it's both the guide's fault and not the guide's fault.
It's not the guide's fault in that the game is rather straight forward and easy to play. The worlds are far more linear than the first game, and there are no insane jumping puzzles to solve. It's not hard to find any of the treasure chests or to figure out how to fight any of the bosses, since all of the bosses are beaten using a series of annoying quick-time events (or as the game calls them, reaction commands). So players may use the guide for the maps to hunt down that one wayward chest or the appendices for item synthesis, but the game is simple enough to not demand a further need.
However, one of the facets of the game is to complete Jiminy's Journal, which asks players to complete everything possible in the game, from meeting all the characters to synthesizing every item in the recipe list to performing all of the mini-games with Jiminy's requirements. I pretty much called it his S&M list throughout as I hate mini-games with a passion.
But that's not the point. The point is that this is where the guide could have proved its usefulness. It could have offered tips to completing the mini-games and even the Underdrome tournaments instead of just summarizing the task at hand. I don't need a summary; I can see just fine what the task is. Granted, for some of the mini-games, it's difficult to offer tips because you either collect all of Pooh's honeypots or you don't. But to not even offer advice on the Underdrome tournaments? Surely the writers can suggest something, such as summoning Stitch to absorb more orbs or casting magic to speed through rounds. SOMETHING.
This is one guide I don't recommend to anyone, no matter how dire your gameplaying skills are. You don't need a written guide to tell you to follow the reaction commands, and it won't help you through Jiminy's Journal.
Final Rating: 2/5