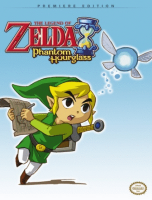 There is a new bar when it comes to strategy guides, and Prima Games' guide for The Legend of Zelda: Phantom Hourglass is it. This guide has everything I could have ever asked for it to have, and I honestly have only one tiny nit-picking complaint about it. Other than that one minuscule complaint, everything was perfect.
For starters, it has something that I'm always griping others don't: an abundance of maps! It has a sea chart with all of the sunken treasure spots as well as maps of each island and dungeon with their corresponding chapters. If you get lost spelunking a dungeon or exploring an island, you cannot blame it on the guide's maps.
The organization of main quest and sidequests within the chapters is also ideal. Whenever new sidequests open up or Link obtains the ability (like finding the grappling hook, for example) to explore new areas and find additional items, the guide goes over these extraneous quests in detail as soon as Link is able to do them. For instance, going back to the grappling hook example, as soon as Link leaves the dungeon on the Isle of Frost, the guide details every new area Link can explore with the grappling hook and every new item he can find with it.
This also goes for finding islands, like the island Dee Ess, that are not part of the main quest. When Link first braves a new area of the Great Sea, the guide will tell you where to find the golden frog and what uncharted islands there are to explore before you hit that first main island for your quest.
I found most of the dungeons of the game to be straightforward, so I didn't use the guide much there except to make sure I wasn't missing any hidden items. However, I relied on the guide probably more than I should have (just for my gamer cred) for fighting the bosses. For some bosses, it was obvious what to do to defeat them, but for most of them it was not, at least it wasn't to me. I knew that I had to use whatever item I found in the dungeon to defeat them, but I didn't always understand how. The guide never let me down for a single boss, especially the final boss, whom I found to be quite difficult.
Where I found the guide most useful was for the repeated visits to the Ocean King Temple. I really wasn't able to play the game very often, and when I did, it was for one, maybe two hours tops. So I didn't remember every nuance of each floor in the temple, especially if I hadn't been there for weeks, sometimes months. Without the guide, I would have been running outside to replenish my hourglass more times than I would have ever liked. Maybe I would have gotten to know the floors better if I didn't have the guide, but I somehow doubt it. There were a couple of floors I knew I had visited several times, but every time I got to them, I felt like I had never seen them before.
And for the completionists out there, who must find EVERY heart container, every treasure map, every spirit gem, and every minute of the sands of hours, the guide will not disappoint. Not only does it walk you through where to find all of these in the main quests and the "missing link" sidequests, but there are handy appendices in the back that will tell you where to find everything you can think of.
I could gush on a few more paragraphs, but you all should get it by now; this guide rocks. But what did I find wrong with it? Well, a few times in giving directions where to run to next in dungeons, particularly that awful Temple of the Ocean King, the guide would mix up "east" and "west." Sometimes this wasn't a big deal and it was easy to figure out what they meant. A couple of times I got frustrated with the directions enough to disregard it entirely and found on my own what they meant. I think this happened a grand total of four or five times. Considering the number of dungeons and revisits to the Temple, this is annoying, but not really that bad.
So yes, a thousand times, yes, I would recommend this guide to anyone picking up this title. If you're as insane of a collector as I am, then maybe look for the Collector's edition guide, which is hardbound and has a nice leather bookmark.
Thanks for a great guide, Prima Games. I give it a 5/5.