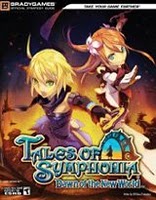 This strategy guide for the Tales of Symphonia sequel was kind of set to fail from the beginning due to the style of the game. The game is overly repetitive and doesn't need much guidance in terms of fighting enemies and bosses. Most of the strategies for bosses were relatively the same. Keep Marta safe and in the back for healing. Send Emil in for slashing and blocking. Look out for so-and-so attack. Be ready to pass out Apple Gels for healing and keep a few Life Bottles on hand. I hate to say it, but I could have figured that out on my own, because that's how most hack 'n slash games go. But thanks anyway.
I did find the guide useful with all of the puzzles in the dungeons. I'm not a fan of insane dungeon-puzzles, especially ones that aren't that obvious what to do next. There were many puzzles that I figured out on my own. There were also just as many where I was scratching my head in confusion, and when I found out what to do next, I wasn't sure if I should feel confused or stupid for not understanding it.
The big failure of the guide was the lack of maps. It included only one map, and it was a map of the overworld. However, you didn't need an overworld map because you couldn't freely roam the overworld. There was no way you were going to get lost or confused about where to head next. You just had to select where you wanted to go and bam, there you went.
But the places you can freely roam, like villages and dungeons, there are zero maps.
Sadly, this would have been the one feature that would have separated it from free online content. Sure, you probably can't find as detailed appendices of all the in-game items online, but I never gave them a glance. I couldn't find a need for any of them.
Simply put, save your money and do not buy this guide. It doesn't offer anything you can't already find online.
Final Rating: 1/5