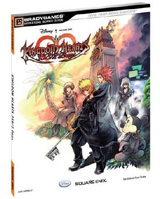 Strategy Guide Review Policy:
My goal for these strategy guide reviews is not to discuss whether one needs the guide to complete the game. Every gamer has different strengths and skills, and one may need every bit of a guide, another may need to look up information for quick assistance once, and another may laugh at the idea of ever using a guide, even the online freebies. My goal is to determine whether the guide is 1) helpful in the first place, 2) does it encompass gamers who need hand-holding as well as those who need a quick reference and 3) how much information does it really have.
Review:
The game Kingdom Hearts 358/2 Days—which is not pronounced how any normal person would ever think—is divided up into 92 missions and 85 challenges. And ever so kindly, the guide is organized similarly. In the beefy walkthrough section, each mission and corresponding challenges are presented on the same page, so there's only one place to look up the appropriate mission number for either feature. The game was not set up in the same way, so it was nice that the guide did not follow suit.
Since this game has so many similarities to Chain of Memories, I was initially worried that this guide would only be as good as that guide. That guide was helpful in card preparation for entering certain doors and for boss prep, but nothing else. Fortunately, this guide provides a wealth of information for both the missions and the boss prep. For example, it tells exactly how to achieve the 100% Mission Completion bonus for every mission, even if it means having to come back later when Roxas gets better abilities. It also suggests what panels to equip for each mission, which saves time from entering a mission unprepared, dying quickly, and forcing Roxas to start over.
The boss strategies provided are some of the best that I've come across in guides. It explains the boss's abilities, combat techniques, and offers very specific strategies. One of the most detailed examples is the strategy for fighting the Infernal Engine in Mission 50.
Although running up and attacking the mouth is somewhat successful, this leaves Roxas extremely vulnerable to counterattack. Instead, stay away from the Infernal Engine and use Air Slides and Dodge Rolls to avoid missile attacks lobbed by the three Heartless dancing on its top. By remaining at medium range, you'll incite the infernal engine into opening its mouth and firing its cannon. Block these shots with the right timing to send them flying up to the top, taking out one of the Heartless with each shot.

Without the Heartless on its top, the Infernal Engine may spit out a large crate. The crate soon breaks, spilling out several Soldiers. During this time, it is okay to attack the Infernal Engine directly. Lock on to the boss and attack its mouth, letting the Soldiers get cut apart in your back swings.
Also as equally detailed are the maps for each mission. They are so detailed in fact that I was initially confused by them at first, which I wouldn't have been if I had simply read the handy map explanation at the start of the walkthrough. The maps accurately depict where every badge, mission gem (mission mode only), boss, item of interest, and Heartless can be found. This was most helpful in the Halloween Town missions, where all of the Heartless hide in random objects.
As expected with physical, book strategy guides, or really all Kingdom Hearts guides for that matter, this guide has massive information about all of the characters' stats, weapons and abilities and all of the panels Roxas can obtain. Players can easily find out how to get any panel in the game, whether its from a mission, the Moogle shop, panel synthesis or from redeeming Challenge Sigils or Mission Crowns. In addition, the guide offers plenty of tips about panel selection and how to boost panel effects and abilities.
To sum up, this guide provides extensive mission explanations, boss strategies, character analyses, maps, and panel charts. In other words, it has everything a great guide needs. I really could find no faults with this guide, and believe me, that was difficult considering I didn't like the game at all.
The Kingdom Hearts 358/2 Days Strategy Guide gets a 5/5.