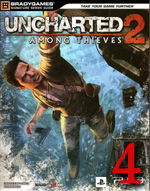 Strategy Guide Review Policy:
My goal for these strategy guide reviews is not to discuss whether one needs the guide to complete the game. Every gamer has different strengths and skills, and one may need every bit of a guide, another may need to look up information for quick assistance once, and another may laugh at the idea of ever using a guide, even the online freebies. My goal is to determine whether the guide is 1) helpful in the first place, 2) does it encompass gamers who need hand-holding as well as those who need a quick reference and 3) how much information does it really have.
Review:
Upon first glance of this guide, it looks massive and a bit overwhelming. It's over 300 pages long, and if you knew nothing about the game Uncharted 2, you would think that just by looking at the book that the game will take one 30-40 hours to complete. I finished the game in thirteen hours, and if I had taken more time to actually look for all one hundred treasures, I bet it would have taken me fifteen or sixteen hours.
From that information alone, you can guess how much fluff is packed into the guide, and I'm not talking about the appendices. The guide goes out of its way to include several pieces of historical and factual information about the objects Nathan Drake encounters in his adventure, including the Cintamani Stone, the prayer wheels in the ice temple, and Shambhala itself. Every time Drake finds a new weapon, it is detailed a bit as well in its own decorative box and if it has any historical significance, it's also listed. It's almost like the guide was designed to look like Marco Polo's diary, cluttered with images and notes.
While this is fantastic from an educational point of view, and it makes the guide look very nice in the inside, this design takes away from how easy it is to find information in the walkthroughs, because the walkthroughs are broken up all over the pages to make room for the artwork and informational boxes. As a result, you could easily cover ten pages in fifteen minutes of gameplay, but you could add another five minutes of searching time to figure out where you are in the game.
That said, the walkthroughs themselves, when you find your spot in the game, are nearly flawless. They provide well written descriptions and well devised strategies to keep Drake alive and/or find his way through a crazy platforming puzzle. In fact, the platforming puzzles are where the guide really shines. In addition to a written walkthrough detailing where Drake should go and what he should look for, the guide also has a screenshot with a directional map plotted out to show players where Drake needs to jump and climb. These were lifesavers in the ice temple section, where to me, it was NEVER obvious where to go.
I do wish that the walkthroughs that were not about the platforming though had as many telling screenshots. It provided stellar screenshots showing where each treasure was, along with a written walkthrough for each, but it didn't provide this same service with the shooting walkthroughs. For example, in the tank chase scenes, a few screenshots depicting where Drake should try to take cover or run to would have been most helpful, as the writing for those sections was a little vague. But then again, if these sections had all these desired screenshots, the pages would be even more cluttered than they already are.
The appendices have everything a user could possibly want, from charts of medals to treasure locations to the game's store inventory. It also has quite a unique appendix that details all the possible types of cover Drake can use. I've never seen anything quite like it in a guide before. I'm not sure how useful it really is, but it's interesting to see all the various objects Drake can use to hide behind.
All things considered, the guide is extremely well done. It really helped this newbie to the shooter genre survive her first attempt, not to mention potential hours of frustration in trying to figure out all of the platforming puzzles in those temples. Writing-wise, BradyGames created another masterpiece. However, due to the cluttered journal design, I have to give it a 4/5.