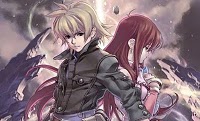 Yes it is true that I can and do actually play games without a strategy guide. Right now I'm playing Sands of Destruction on the DS, a game I've been looking forward to since LAST January, and I'm also reviewing it for Kombo. It's nice to be able to review a game you actually wanted to play.
I have to say that I'm not entirely pleased with the game so far. I was really interested in it because I liked the idea of the story being about destroying the world instead of saving it. However, while one partymember is rather hell bent in destroying the world, the protagonist with the power to do so is all about changing it and making it better. Somehow I think that's what "destroying the world" really means. Lame. I could pick up any other JRPG and save the world.
On top of that, the graphics are a huge disappointment. The occasional cut scene when you enter a new area is really nice, but these are short and few. The rest of the time, you are presented with graphics that look like they are from a GBA game, Kingdom Hearts: Chain of Memories in particular. Couple this with the fact that you don't use the touchpad at all, you have to wonder why it is on the DS in the first place, other than the fact that Nintendo no longer supports the GBA.
To quote another review of the same game from a friend of mine, the game is okay, but I don't think I'd recommend it to a friend, especially if the friend likes challenging RPGs. Last night I died for the first time, and I'm halfway through the game. For that fact alone, I can see why a guide was never deemed necessary for production. But I still like it so far, despite how easy it is, but I also like odd games. I'm also still hoping that I get to destroy the world.