by: Matt Green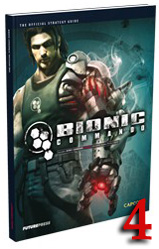 Last year's Bionic Commando from GRiN and Capcom isn't really daunting enough to require a strategy guide, but that hasn't stopped Future Press from putting together more information than you'd ever want to know about Nathan Spencer's latest (and, possibly, final) adventure. While the game offers linear progression through a series of Point A to Point B stages, the guide recognizes that it's largely unneeded and fills its pages with plenty of Bionic Commando backstory, character biographies & artwork, weapon profiles, enemy dossiers, amusing Capcom in-jokes, and even a guide to Bionic Commando Rearmed's infamous challenge rooms. It's a suitable companion to the best game that nobody else played of 2009, but on the whole it's mostly unnecessary.
Start flipping through the guide and you'll find that the first chunk of the book isn't maps or gameplay tactics, but a retelling of the complete history of Bionic Commando's backstory. A recap of the Rearmed mission leads into filling the gap between the remake of the Nintendo Entertainment System classic and this new modern adventure. Here you'll learn about a botched mission that led Spencer to disobey orders and allow two rogue bionic soldiers to escape a terminator order and his subsequent imprisonment and sentence to death row. BioReign's rise to prominence is also explored, as are dossiers on lead and supporting characters such as Spencer, his missing wife, "Super" Joe Gibson, Secretary Armstrong, nemesis Gottfried Groeder, antagonistic counterpart Jayne "Mag" Magdalene, the mysterious sniper, and other side characters. Knowing all of Bionic Commando's complete story beats isn't required to enjoy or understand the game, but they do show just how fleshed out this reworked fictional world became over the course of development.
Moving onward, the maps make up the bulk of the book as one would expect. Each area is given the 2D overhead plan view treatment which keeps the maps from being too useful. It's difficult to indicate exactly where items are located in a 3D space on a 2D map, so when the map indicates that a new weapon is hidden at a certain point, it's worth remembering that the outlined point could be above or below what the image on the map describes. The one thing at which the guide excels involves pointing out where to find the secret collectible items required to unlock all of the game's concept art. Anyone looking to collect every last secret pick-up on a single playthrough of the adventure will want to have this book at his or her side while swinging through the city. Each map page also includes step by step directions on where to proceed, which enemies to target, and where not to go because of deadly radiation. It's all useful information, but I found it much more fun to play the game "without a net", as it were. Still, if you're going to explore Ascension City page by page, this guide will get you where you're going with minimal fuss. Each and every point along the journey is given detailed, easy to understand coverage. Of course, actually being able to perform the strategies outlined in the book is different from simply reading your way through the game, so be prepared to develop your skills before plowing through the action. The great thing about playing Bionic Commando unassisted is that players are forced to develop their own strategies for dealing with each variety of foe. Just doing what the book tells one to do for every challenge and situation really sucks most of the fun out of the experience. Don't be afraid to put the book aside unless it's really needed.
A full weapons profile follows the map section of the guide in which complete specs and data are provided for each of the game's guns and explosives. I found it unnecessary to know a gun's weight, manufacturer, and other useless details, but obsessive types may get a kick out of knowing these little bits of worldbuilding. Combat tactics are also outlined, although there's little to learn here that the game will not explain or coach players to figure out for themselves. Blasting BioReign soliders and robots is key in Bionic Commando, so it's only fair for the guide to dig deep into data and strategies related to the endless array of grunts. Factoids such as damage modifiers and optimum rates are explained in handy chart form, but it's really too much information to handle. There's also a full chapter devoted to the game's online multiplayer mode which would be really useful if anyone actually played the online multiplayer mode. Those who can find an active game session will be prepared with key methods are shooting and swinging through the multiplayer environments.
Bionic Commando is loaded with fun little Capcom-related jokes and Easter eggs, and a few pages at the back of the guide list them all. Grin at in-game posters for Capcom's Dark Void, signs featuring MegaMan Legends characters, logos from other Capcom games, and more. Other in-game secrets are divulged here for those who don't want to translate the game's Morse code German text ending themselves. Bringing the guide to a close are several pages detailing each of Bionic Commando Rearmed's challenge rooms. Each room is mapped and outlined with a completion strategy, although it's much easier to describe how to reach the goal in each room than it is to actually do it. Still, it's interesting information and adds a little extra value to the book.
As I said earlier, it's really not necessary to refer to a strategy guide to enjoy and complete Bionic Commando, and I actually got more of a kick out of the character and weapon profiles than I did the maps and progress directions. It's recommended for die-hard Bionic Commando fans, but having said that, I question why Future Press went out of its way to create a book that seems to be targeted at just me. Thanks, Future Press!
Thanks so much Matt, and thank you, Future Press for providing a review copy!
We did receive a review copy courtesy of Future Press, but it in no way affected our review.