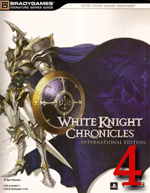 Strategy Guide Review Policy:
My goal for these strategy guide reviews is not to discuss whether one needs the guide to complete the game. Every gamer has different strengths and skills, and one may need every bit of a guide, another may need to look up information for quick assistance once, and another may laugh at the idea of ever using a guide, even the online freebies. My goal is to determine whether the guide is 1) helpful in the first place, 2) does it encompass gamers who need hand-holding as well as those who need a quick reference and 3) how much information does it really have.
Review:
The strategy guide for White Knight Chronicles is about as mixed as the game. The game is a weird hybrid of a single-player RPG campaign and a MMO, and the guide tries to fill both shoes, but ends up really slighting one over the other. Fortunately for me, someone who has no interest in multiplayer games, the guide did a better job with the campaign than the online quests.
The guide did a lot of things well, especially in terms of preparation advice. The game requires an extraordinary amount of prep—one of its biggest downfalls—and the guide really does a good job at simplifying the amount of prep work you have to do, such as making suggestions for the type of combos you should create, what magic you should teach specific characters, which pieces of armor you should save up for and buy, and which items you should purchase for your hometown in the Georama (a town you can build for your avatar online). The prep can easily take hours after each boss fight (I wish I was kidding), especially if you don't have a specific plan for each character. It was nice to have this amount of guidance for my partymembers.
In addition, the strategies for each boss fight were very sound. I was never caught off guard, and I was able to defeat most of the bosses with relative ease. Most of the boss fights required the same tactic: turn in to the White Knight and set one other member for healing while the other hacks away. However, there are a few situations where it's best to save the White Knight transformation for a later time, and the guide was kind enough to point these instances out. It saved me from more than one potential disaster.
One thing though that I found really odd was that for some reason, my party was always a level or two ahead of the suggested levels for boss fights, but for some reason, I NEVER had as much money as the guide seemed to think I would have for buying weapons, armor, and things for my town in the Georama. One would think that if my levels were that high, I would therefore have enough cash, but for some reason, the two never worked out. I continued to have high levels and be poor at the same time. It never made sense.
Another aspect that didn't really make sense was the maps. The guide had maps at the beginning of each new locale as well as each online sidequest, but the maps only showed the shops and save points. I could have gotten the exact same information from the map in-game, and at least that map also pointed out where to go. The guide maps would have been far more useful if they included the locations of chests and harvest points.
In addition, the walkthroughs provided for the online sidequests really felt like an afterthought to the game. They never gave any advice for performing the sidequests alone, which I suppose should not be too surprising, but it also begs to ask the question of why use a guide for a multiplayer game? Also, the guide never says when any of these sidequests unlock. There's a space for this information at the start of each chapter in the main quest walkthrough, but it's oddly blank. For more oddities, most of the large screenshots used to illustrate the sidequest pages are from the main quest itself, which is quite distracting as well as confusing.
Final Word
Aside from never having as much money as it seemed I should have, the main quest portion of the White Knight Chronicles Strategy Guide is solid with well written strategies and designed in a format that makes it easy to find any necessary information. The same cannot be said for the sidequest portion, but if you're going to be playing those online with other friends, it's doubtful you'll think of using a guide in the first place.
White Knight Chronicles Strategy Guide gets a 4/5.