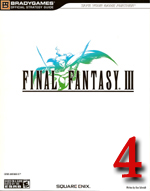 Strategy Guide Review Policy:
My goal for these strategy guide reviews is not to discuss whether one needs the guide to complete the game. Every gamer has different strengths and skills, and one may need every bit of a guide, another may need to look up information for quick assistance once, and another may laugh at the idea of ever using a guide, even the online freebies. My goal is to determine whether the guide is 1) helpful in the first place, 2) does it encompass gamers who need hand-holding as well as those who need a quick reference and 3) how much information does it really have.
Review:
BradyGames' Final Fantasy III Strategy Guide reminds me quite a bit of their strategy guide for Final Fantasy VII: short, sweet, and to the point. There is no fluff. There are no spoilers. There is no messing around. As a result, the guide feels a bit like an afterthought for the game, which makes it not geared toward the end of the gaming spectrum that needs a little hand-holding.
Now it has everything a decent guide for a JRPG needs. It has detailed information in the beginning about the characters (in this instance, the jobs), fabulous maps, in-depth item information, and information on sidequests. And if you want a bare bones guide with pretty much just this information, then this guide is definitely for you. This is not to say that it has terrible walkthroughs; it's just that the walkthroughs are scant and provide very little detail other than where to walk next. There is only one tip in the entire guide for a suggested level before entering an area. That's it. The rest you'll have to deduce on your own.
That's pretty much the theme of the guide: here's some information, now go figure it out a bit on your own. For example, there is no other advice about job selection aside from what is found in the beginning of the guide. This section is useful in that it offers advice on the usability of a job near the end of the game, but it would be nice to have at least some job tips about bosses throughout the game. It offers job suggestions for a couple of bosses, but that's about it. At least it mentions what weaknesses each boss has, if any.
However, with this hands-off approach, the guide really lets the player experience the game how he or she wants to. Since the jobs are so diverse, players can find which jobs personally fit their playing style the best and go from there. Since this guide makes very few job suggestions, it boosts this unique feature of the game.
Another aspect that was slightly annoying was the placement of the sidequest walkthroughs. All of these "extra" walkthroughs are placed in the back of the guide, and there are no mentions of when any of these sidequests become available. If you're interested in sidequests, you'll have to flip back to find out when the quests open up and where and then forth again to return to the story. It's true that not everyone wants to do the sidequests, but if they're all going to be stuck in the back, at least make a mention of when a sidequest is available when it opens in the story.
And that's pretty much all the guide has. There are no extras at all in terms of artwork, gameplay advice, or even the Mognet outside of the sidequests. It's quite possibly one of the most simplistic guides I've ever found (in the current generation of consoles, anyway), but at least it does everything it set out to do well. It's for this reason that it earns a 4/5.