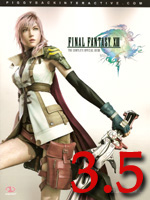 Strategy Guide Review Policy:
My goal for these strategy guide reviews is not to discuss whether one needs the guide to complete the game. Every gamer has different strengths and skills, and one may need every bit of a guide, another may need to look up information for quick assistance once, and another may laugh at the idea of ever using a guide, even the online freebies. My goal is to determine whether the guide is 1) helpful in the first place, 2) does it encompass gamers who need hand-holding as well as those who need a quick reference and 3) how much information does it really have.
Review:
I can't lie. This guide was really, really, REALLY hard for me to review. It does so many things well, and yet, when one would need it most, it utterly fails.
I mentioned a few weeks ago that the guide wasn't fully informative when it came to the Chapter 9 boss, and that I'm certain (with verification from other friends) that defeating the boss with this strategy is downright impossible. Unfortunately, this wasn't the only time the guide delivered a seemingly impossible strategy for fighting a boss. On the flipside, the other strategies worked flawlessly. Hence the quandary.
The other major issue I had was the guide's party recommendations. With the Mark Missions, the guide simply suggests what roles are needed to successfully complete the mission. So in many ways, players can pick and choose which characters work best for them, not unlike they would in Final Fantasy III. The guide should have taken the same approach throughout the main quest. For the first 30 hours or so, players have no choice when it comes to their party as the characters are all divvied up. But when everyone is together, the guide strongly urges players to use a party consisting of Lightning, Fang, and Hope, and well, Hope just does not work very well. He's not a great healer, his HP is incredibly low, and he moves so darn slowly. The guide suggests this party formation so that players have access to all different roles, and that's all very good in theory but it doesn't work well. The times one needs a Synergist role is so rare that it's unnecessary to keep Hope in at all times. Not only that, but players could also simply apply a Fortisol or Aegisol before battle and it will do the same trick (and much faster as well).  Maybe some players like working with Hope, and that's fine, but the guide should have kept the same formula with the Mark Missions and not have "forced" a party selection on the player. This is also part of the problem I had with some of the boss fights I mentioned above. Once I changed out my characters to better suit my style of play, the guide hasn't been all that useful to me for boss fights, and sadly enough, I'm doing much better and killing off bosses in one go.
Despite these setbacks, the guide does several other things really, really well. For instance, the maps are FLAWLESS. All treasure spheres are accounted for, all hidden doorways are marked, and all cut scenes are neatly designated. These maps are quite possibly some of the best maps I have ever come across in my guide-using days. In addition, the tips it provides for fattening up your Gil wallet, upgrading and dismantling weapons, and—everyone's favorite RPG topic—level grinding, somewhat balances out the guide's shortcomings. And as mentioned above, the strategies for enemies and most of the strategies for bosses were spot on.
It's just unfortunate that the bosses it misses are the biggest, most important bosses in the game. It's equally as unfortunate than none of the strategies provided will guarantee the player to earn a 5-star rating in battles and missions. The guide opted to make sure the player stays safe over annihilating the enemy as quickly and stylishly as possible, so for the most part, if you want those 5-stars, you're on your own.
Perhaps now you see why I struggled with the final rating of 3.5/5 for PrimaGames and Piggyback Interactive's Final Fantasy XIII Strategy Guide. It's definitely above average, but it doesn't wholly excel either.