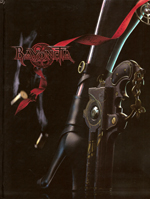 Isn't the cover just beautiful?
It's taken quite some time crossing the Atlantic, but now that it's here, it appears to be worth every minute of the wait. For starters, aside from the gorgeous game artwork inside, the guide is a massive 400 pages. None of my guides are that long, not even Final Fantasy XIII Strategy Guide. According to the welcome page, the guide is so humongous because it includes strategies for all of the difficulty settings and strategies for obtaining Pure Platinum medals in each Verse. While I would expect a guide to contain all of these things, the way this guide handles it is quite interesting. Instead of lumping everything together, it has separate sections for those who want to blaze through the game and those who NEED those Pure Platinum medals. It's basically two guides rolled into one.
On top of that, the guide also has a separate section with more detailed strategies for defeating bosses, which is something Future Press employed with its inFamous Strategy Guide as well. If I recall correctly, it worked very well.
I only wish I actually had time to play the game right now. I could go on ahead and start, but since I'll be getting NIER next week, I don't see a point. It would be Darksiders all over again. Hopefully NIER won't take me that long or I'll flat out hate it so I won't spend too much time with it. I've been waiting to play Bayonetta for quite some time now, and I'm very eager to sink my teeth into this beauty the first change I get.