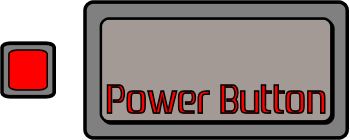 Last week I was asked to be on The Power Button's podcast to discuss all things strategy guides and brag on my site. My good friend and fellow guest reviewer, Matt Green, has kindly posted the podcast and it's available for the world to download and listen to me blab on about how great strategy guides are (as well as talk about their production and some really sucky guides).
Please support Matt, The Power Button, and myself by spreading the news!
Here is Matt's summary:
When people need a quick gaming tip or clue these days, they just hop over to GameFAQs or one of the other sites like it for free advice. Once upon a time, however, way back before Internet access was common or especially useful, people would get their gaming help from actual printed and published strategy guides that mapped out each and every part of a game. Guides are still printed in our modern era, believe it or not, and one woman has carved out a niche in the industry by reviewing them. This week on Power Button we sit down with the owner of Strategy Guide Reviews, Keri Honea, to talk about the art of the strategy guide. We cover the aspects that make a great guide, how guides are made, why proper printed guides are still relevant in the electronic age of information wanting to be free, and more.
Thanks again to Matt, Joey, and Brad for letting me be on the show!