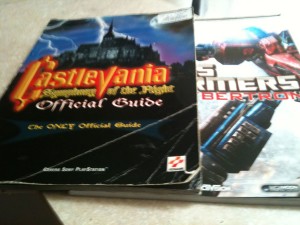 I picked up one of these guides at the store and the other one arrived in the mail from an eBay seller. Can you guess which is which?
I'm actually quite pleased with the condition of the Castlevania guide. The only damage it has is what you see on the front cover. The first thing I did after examining the damage (and leaving positive feedback on eBay) was check and see everything I missed in the very beginning. I missed so much, I'm seriously thinking of starting over from scratch. I missed a major weapon, I now know how to reach certain areas I couldn't figure out earlier, and I missed equipment and what I'm sure are important items. No wonder I had such a hard time with the first boss.
Okay, thinking over. I'm going to start over. Then I can hear about man being "a miserable pile of secrets" again.
The second guide was totally a spur of the moment purchase. I received $35 in gift certificates from Best Buy, and since I had errands to do in a Best Buy vicinity, I figured it wouldn't hurt to stop on in and pick up something that ISN'T on my Amazon wishlist. My birthday is Saturday, so I don't want to accidentally spoil a possible gift. It hit me that Transformers War for Cybertron released last month, and the trailer had me laughing so hard I knew I would own it eventually. I took the very last copy Best Buy had of both the game and the guide, the latter of which I had to dig for in their shoddy organization for guides. I found it tucked between a NIER guide and a guide for Spirit Tracks, so I assume someone tucked it back there for later. Too bad, sucker! MINE MINE MINE!!
I have no idea when I'm going to get to this game, but I'm just so happy to have it. And the guide. I've got the touch…I've got the powwwwwwer!