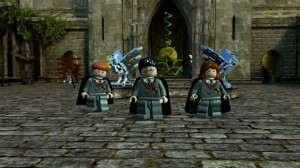 I've been silent over here for awhile, and the reason why is because I am struggling to get into Mass Effect. I'm struggling to the point that I have to talk myself into playing the game, and well, that hasn't happened for a couple of weeks due to the greatness that is LEGO Harry Potter. The game is so silly and has such great, thought-provoking puzzles that it's taken precedence. I really hoped there was a published guide available so I wouldn't neglect this site, but apparently the LEGO games no longer warrant needing guides. Oh well.
I think the reason why I'm having trouble with ME is that I've played a lot of somewhat serious games lately. Yes, Bayonetta really wasn't that serious story-wise, but the gameplay was quite serious. Then there was Heavy Rain and Final Fantasy XIII from earlier this year. I need a break from the serious stories.
What better way to break away than to play LEGO Harry Potter? You can't really die, there are always fun techniques to try out, there are tons of whimsical puzzles, and you cast spells. It's the perfect silly, non-serious game.
But game challenger MattG has also pointed out that Paper Mario RPG: The Thousand Year Door is also just as fun whimsical. So yes, I will be able to review a guide and play a fun game at the same time.
Now don't get me wrong. I'm not saying that games with serious stories aren't fun. I've just had my fill of them for the time being and crave a bit of silliness.