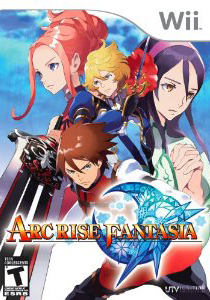 I honestly thought that Arc Rise Fantasia was supposed to have a guide, but either I dreamed it or it got cancelled. Either way, there is no guide. Normally this isn't that big of a deal outside of the fact that this blog loses some fodder, but in this case, I really really need one.
I'm reviewing the game for another site, and I'm not enjoying the game at all. The combat is unique and fun, but the characters and plot are JRPG generic and the voice acting and script are flat out TERRIBLE. I whimper each time I turn on my Wii. As such, I just want to burn through this game as quickly as possible. Dabble in sidequests as needed for leveling and review purposes and get through all boss battles quickly.
Unfortunately for me, I need a guide for this. The game is rather unbalanced in that the enemies are ungodly easy and the boss battles are ungodly hard. Nothing really prepares you to be strategic or to endure lengthy battles. Since I'm not enjoying the game anyway, I would like to know the fastest way possible to defeat the bosses and tromp through the story.
So I'm stuck with some poorly spelled online guides  available on GameFAQs that occasionally don't make complete sense as what to do. I only use them after the fourth or fifth boss fight failure, so the game is unfortunately taking me longer than I would like. Then again, even if I did have a guide, the game would probably take me longer than I'd like anyway. It's one of the downsides to reviewing games. I was due to review a game I didn't like. So far I've only reviewed games I wanted to, so hey my time was obviously up.
I still wish I had a guide to make this trek more bearable.