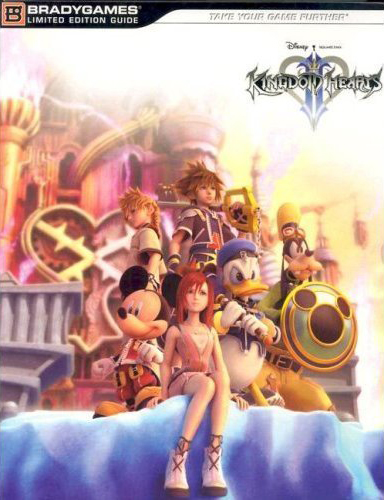 When Kingdom Hearts 2 released in 2005, the guides – both regular and Collector's Editions – were a HOT commodity. The first guide was so fantastic that everyone naturally assumed this guide would be just as great. As seen from my Kingdom Hearts 2 Strategy Guide review, this was not the case. However, the Collector's Edition of this guide was the biggest rip-off of the whole ordeal.
For starters, the Kingdom Hearts 2 Collector's Edition Strategy Guide did not even sport a hardback cover that most CE guides feature. Don't get me wrong; the artwork on the cover as shown on the right was downright beautiful, but it was on a thin board cover sleeve, similar to what you would see with some DVD sleeves. The reason for the sleeve was that it contained two books inside: the strategy guide and Jiminy's Journal.
The strategy guide within the CE had four different covers, each displaying one of Sora's Drive Forms. This was smart on BradyGames' part, because fans CLAMORED to collect all four of these Collector's Editions. (When in doubt, always tap into the collector mentality.) It's just a shame, though, that the other bonus included with the CE was not as fun and wasn't all that practical either.
The bonus book, Jiminy's Journal, listed everything Sora has to complete in this sadistic journal, what Jiminy's minimum requirements are, and space for the user to fill out his or her times/scores for the mini-games. The first two elements are already in the strategy guide, so all usefulness of the Journal has already been included in the cheaper version. Maybe some fans will like to record their scores in the book, but what's the point when the game already records them for you? Now if the Journal offered tips for meeting Jiminy's insane demands, then I would take back calling it useless.
But as it stands, this bonus is useless, which effectively renders the rest of the Collector's Edition as nothing but a prettier version of the regular strategy guide. I pity all who fell for this trap, including myself.