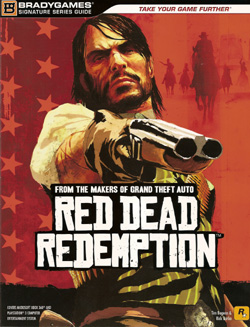 I happily traded in my review copy of Arc Rise Fantasia and a few other games that were rotting on my shelf for Red Dead Redemption and its corresponding guide today. Numerous friends have been hounding me for weeks to get this game, and after hearing countless stories of its awesomeness and that you can tie people to railroad tracks, I've caved in. This game better live up to its hype and glory or I'll be tying someone to railroad tracks in real life.
But back to guide talk.
This guide is surprisingly massive. It's over 300 pages, and it has something in the back that greatly pleases me: a tear-out map. Now I have both a bookmark and a map of the Old West!
From flipping through its content, it looks like it has a decent, easy to use design that incorporates maps, screenshots, and text. The lead author is Tim Bogenn, and I'm not familiar with his work, but I have a few of guides of Rick Barba, the co-writer, around here somewhere.
Does this mean that I'm abandoning Transformers: War for Cybertron? Not in the least. However, I do have a rather ADD mind when it comes to gaming, so there will be a lot of flipping back and forth, especially since I have Ys Seven to review for another gaming site.