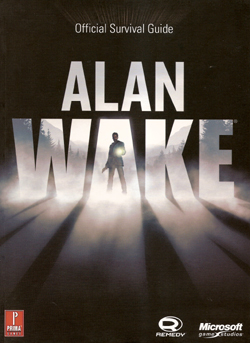 I must have cracked now, right? How can I choose a guide cover that has so little color for the Strategy Guide Cover of the Week? In this case, quite easily. The cover of the Alan Wake Strategy Guide–excuse me–Survival Guide says pretty much all you need to know about the game. It's dark, it's not inviting, and the fact that Alan seems to be holding a flashlight and not a gun makes it all the more scary. The mist and shadows coming from his last name further intensifies the feeling.
And then if that wasn't enough, Prima Games had to call it a "Survival Guide" instead of a "Strategy Guide." In other words, you won't be using this guide for typical advice you may or may not use, depending on your game style. Instead, Alan's life will depend on your use of this guide.
It's subtle, spooky, and brilliant. Props to both Microsoft for the box art and Prima Games for making the art a bit of their own.