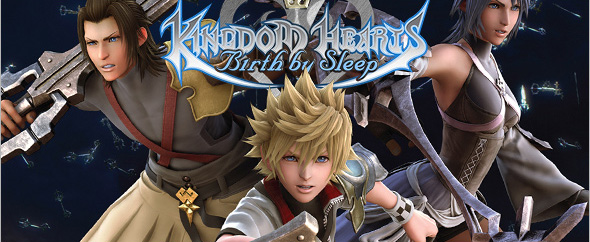 I keep waffling about doing comparisons between print guides and online guides, but something that IGN Guides guru Colin Moriarty said on the PlayStation Beyond podcast about print guides swiftly changed my mind. He commented that no one wants to pay for print guides anymore when online guides are free. While I think that Mr. Moriarty has a valid point, I also think that print guides have a far higher value than online ones, and it goes beyond the fact that it's easier to look at a book than a computer screen while playing a game.
So let's take a look at IGN's guide for Kingdom Hearts Birth by Sleep, shall we?
Right off the bat, the first thing I notice is the guide's lack of maps. Sure, the beginning of each section of the guide lists all the treasure chests and stickers found in this world, where to find them, and when it is possible to reach them, but following written directions never provides the same level of helpfulness as looking at a map with the chests neatly displayed out before you.
The second thing I noticed was its incompleteness. Their online walkthroughs aren't even finished yet! For a game that has been out since early September, this is a bit shameful. Put the whole guide up at once or not at all.
As for good things, the guide does a couple very well, and both things are features I mentioned that I wanted in the print guide. The first is a layout of each command board with the special rare bonus panels marked for each character. The print strategy guide mentioned where these were occasionally, but there was nothing in the book that showed everything on the command boards.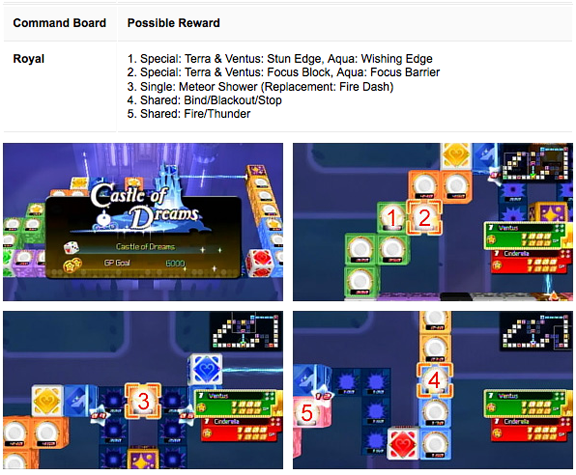 If I ever decide that I hate myself enough to play through all of these Command Boards, I know exactly where I'm going to look for assistance.
The second advantage to the online guide is its lists of ultimate commands for each character. The guide mentions in the walkthroughs how to meld commands together for a character's ultimate command–such as Meteor Crash for Terra and Faith for Ventus–and the same commands are listed in the ginormous recipe appendices, but it would have been so nice to include these same melding recipes in each of the character's cast pages, similar to the D-Links and Command Styles. IGN's online guide lists all the character-specific commands in a separate appendix and how to obtain them, but unfortunately, none are labeled as the ultimate commands in these lists or even in the recipe appendix. So close to being perfect on that count.
WINNER: PRINT GUIDE
For Kingdom Hearts Birth by Sleep, the winner is BradyGames' print strategy guide, hands down. For this first round of P v. O, the score is 1-0.