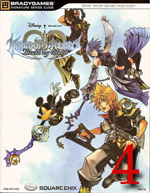 Strategy Guide Review Policy:
My goal for these strategy guide reviews is not to discuss whether one needs the guide to complete the game. Every gamer has different strengths and skills, and one may need every bit of a guide, another may need to look up information for quick assistance once, and another may laugh at the idea of ever using a guide, even the online freebies. My goal is to determine whether the guide is 1) helpful in the first place, 2) does it encompass gamers who need hand-holding as well as those who need a quick reference and 3) how much information does it really have.
Review:
BradyGames' strategy guides for the Kingdom Hearts franchise have been a bit spotty. The first guide was outstanding, the CoM guide was pretty good, the KH2 guide was virtually worthless, and the guide for 358/2 Days was a bit hit or miss in terms of understanding what it was trying to say. But Birth by Sleep brought in a different writer–Casey Loe–so there has been some hope that this guide will be as good as its early predecessors.
Fortunately, it is.
The walkthroughs are very well written, concise, and very easy to understand. The guide's page design is also simple enough to enable users to quickly find where they are in the game and what they are looking for, but it has enough color and artwork to keep it from being boring. Guide designers should look at this guide for how a book should be formatted.
There are no appendices for where to find all of the treasures and stickers for each world, but they are hardly necessary. The opening page to every new world each character visits consists of a map of the world and a list of all the treasures and stickers to be found. If some cannot be accessed at the time–due to ability limitations–then the walkthrough mentions so and reminds players to go back for them before heading on to the final bosses.
In addition, the guide has some of the best appendices I've ever seen. All of the command recipes for melding commands are clearly listed, and they're even organized in two different methods: by end result and by component. The Materia Fusion guide–if you could call it that–in the Crisis Core strategy guide could have taken a nice leaf from this. I wish that each character's command styles and finishing commands were also listed in the appendices, but they're easy enough to find in each character's page in the beginning along with all of the characters' D-Links.
The guide is so great with all of this information that it's even more disappointing that it doesn't include as detailed information for the Command Boards. At one point it lists which boards hold which rare commands for characters, but without a layout of each Command Board, this information is practically wasted. Granted most of the bonus panels change up the location and the reward for each character, but when a specific bonus panel proffers a rare command (such as the Ragnarok Shotlock Command for Terra) a map pointing out where this bonus panel is would be more helpful than the provided suggestion in the walkthrough itself. As a result, those looking to obtain every command will have a more difficult time acquiring them from the Command Boards than was really necessary. (Of course if players just like playing the Command Boards repeatedly, then this is not a problem.)
The Kingdom Hearts Birth by Sleep strategy guide is definitely one of the best guides in the KH franchise, if not in the strategy guide industry as a whole. Unfortunately, the lack of Command Board specifics keep it from being the perfect guide it should be.
Final Rating: 4/5