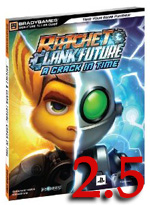 Strategy Guide Review Policy:
My goal for these strategy guide reviews is not to discuss whether one needs the guide to complete the game. Every gamer has different strengths and skills, and one may need every bit of a guide, another may need to look up information for quick assistance once, and another may laugh at the idea of ever using a guide, even the online freebies. My goal is to determine whether the guide is 1) helpful in the first place, 2) does it encompass gamers who need hand-holding as well as those who need a quick reference and 3) how much information does it really have.
Review:
Offbase Productions has a habit of writing nice guides and presenting them in such a way that the design makes it very difficult to find what you are looking for. Unfortunately, their guide for Ratchet & Clank Future: A Crack in Time is no different.
The design makes it so that it almost doesn't even matter how thorough and helpful the walkthrough is, because users are going to have a hard time finding what they're looking for anyway. Like their guide for Uncharted 2, ACIT is very art book in presentation, so the text is easily lost amongst all of the images, making it difficult to discern where you are in a Sector if you're stuck. Even the opening pages of each Sector has too much art and not enough information. Having a two-page spread of Sector introduction is fine, but Offbase should have at least included a list of missions, all the maps, and available items to find in this spread instead of filling it with giant pictures of the characters. Other guides have found ways of effectively combining artwork and intro information for chapters, so there's no reason why this one could not.
If that wasn't problematic enough, the guide has no simple way to look up any information outside of the enemies and boss lists in the appendices. All sidequests are embedded in the main walkthrough, forcing users to remember what Sector each sidequest is located in each time they may have a question on how to complete it. A simple section just for sidequests would greatly reduce the amount of page-flipping time.
The same goes for the Gold Bolt Hunt. All Gold Bolts are marked in maps throughout the walkthroughs, but there are no individual Gold Bolt maps for each Sector. Considering that Ratchet can't acquire all of the Gold Bolts immediately during the walkthroughs, an appendix with maps for all the Gold Bolts would be far more helpful than forcing the user to flip through the walkthrough yet again to locate the Bolts. This would be especially helpful for Gold Bolt hunters in the Corvus Sector, which has no mention at all in the walkthroughs. A particular moon in Corvus harbors a Gold Bolt, and this moon has some of the trickiest platforming in the entire game. A map of just this Sector, period, would be nice.
When you can find what you actually need in the writing, that part is very informative and easy to understand and execute. The puzzle-solving sections are also one of the best features of the guide. However, since it is plagued with bad design and an unfortunate omission of an entire Sector, the guide has been rendered almost useless, save for the maps that are present and the puzzle-solving sections.
2.5/5