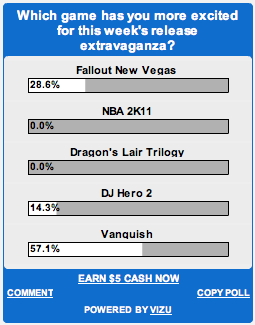 Despite all the Fallout New Vegas hype, it seems that most of my readers are more excited about Vanquish (or as I like to call it, Mech Bayonetta) than the post-apocalyptic game. I have to wonder if this is because of all the bugs that have been reported in the game or maybe Fallout isn't as popular as advertised.
This week's poll is a redux of last week, simply because October continues to flood the market with highly anticipated games. This month was supposed to be my catch-up month. Not sure what happened. It looks like December will have to become my catch-up month, because we all know how screwed our wallets will be come first quarter of next year.
Of this bunch, it's a toss-up for me between Fable III and Star Wars: The Force Unleashed II. I haven't even started the first game yet, but I really want to find time to. I think I need to stop buying games and guides first.
Nah, that will never happen.