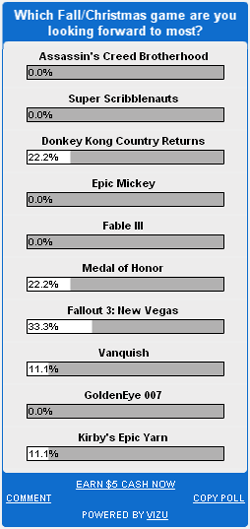 Despite the request for a write-in vote for Call of Duty: Black Ops, it seems that Fallout 3: New Vegas is the highest on the want lists. This should honestly come as no surprise to me as Fallout has a ginormous following, but I'm in shock that there aren't any votes for Assassin's Creed Brotherhood. Maybe that comes in as a close second for you? Or maybe I'm just clueless as to what everyone wants.
The insane Fall line-up continues this week with Super Scribblenauts, and once again, Prima Games is supplying the guide. Their first guide was very well done, so I anticipate that their second one will be just as up to snuff. Since I liked both very much, I'm going to be picking up their sequels hopefully this week.
While planning this, it made me wonder: don't strategy guides for puzzle games defeat the purpose of the games? For instance, Professor Layton has not had any guides, and I'm sure I'm not alone in thinking that this is a good thing. Part of the reward for solving those insane riddles was the sense of accomplishment (and the picarats…always the picarats), but for some reason, I don't see a problem with Scribblenauts. Is it because I found Maxwell to be so darn frustrating? Or maybe I just eat up every strategy guide imaginable.
The answer is most likely the latter, but now I want to know what you think. Do strategy guides for puzzle games defeat their purpose?