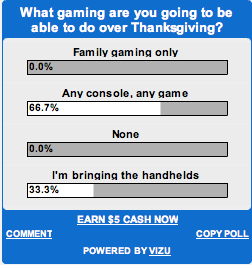 Okay so the few of you who were able to play games over the Thanksgiving weekend, sucks to your assmar. I packed my handhelds as planned (too bad I forgot Final Fantasy III), but I was only able to take out my PSP once. And when I did, I got the look from the family. I had no idea my undivided attention meant so much to them, but eh, whatever. I'll finish Ys Seven eventually.
The big topic of this week is Epic Mickey. I have preordered the game (Best Buy is going to give me a bonus 500 points on my Reward Zone account!), but I'm saving the guide for when I finish Assassin's Creed Brotherhood and Final Fantasy XIII. So yeah, sad to say, I may not get to it by the end of 2010. Blame ACB for being so great I don't want to hurry up and finish and my making a promise to my friend to finish FFXIII by the end of the year. So while yes, I am a big yes for EM, thanks to the demo at E3, I'm not going to drop everything to play it.
So how many of you are interested in Mickey's new game? It's been hyped like crazy all year long, so here's hoping it's not an epic flop. I'd love to see a decent third-party game to the Wii. There have been a ton of fantastic first-party games lately, but sad to say, none of them appeal to me, and none of them will until Skyward Sword releases next year. So come onnnnnn, Epic Mickey! Don't let me down!