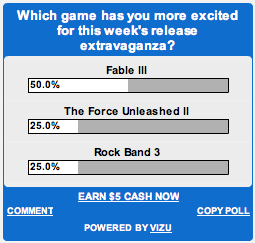 The results of last week's poll utterly shocked me. I far expected more fans of Rock Band 3 than I did Fable III. I had actually thought about getting Fable III before I heard it was like a mish mash of the Sims and an RPG. I hated urban planning in Sim City, so I'm not that excited about planning what to do with a run-down part of town in a console game. I hope to God that what I've heard is just an oversimplification, because if it isn't, Mr. Molyneaux, seriously, what are you thinking?
This week's poll regarding the release of the Kinect should be a surprise to no one. I promise I'll get back to strategy guide-related polls in the future, but for the rest of this month, expect polls like this and from the last couple of weeks. Too much hot stuff is getting released to not ask about it!
So really, who out there is interested in the Kinect? I tried it out at E3 this year and it created a big fat "Meh" from me. Read my story at the now-defunct Kombo for more details on my thoughts and my experience. Maybe something, some day will change my mind, but for now, I'm sticking to my thoughts that I have no interest in standing in my living room to play a game.