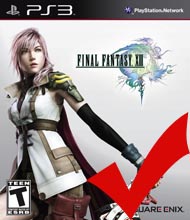 This past weekend I completed all of the C and B missions that I could get to and were unlocked, so it was definitely time to tackle the final bosses. Thanks to all of the missions I completed, I had very little trouble with any of them, which considering my final time clock at 59 hours and 53 minutes, I was grateful for that. I have to say that I am so happy I pushed myself to finish this beast. I loved the story, the gameplay, and every little wtf moment.
However, I am disappointed with how the game ended in terms of the Crystarium and CP earned. I knew that the final levels of the Crystarium did not unlock until after you finished the story, but I expected the last bosses to dole out CP so I could continue to level up and have too much fun on Pulse finishing up the missions. As you can guess, I did not receive a single bit of CP, so I somehow have to collect enough CP on Pulse to fill out my Crystarium's final levels, where each crystal costs 30,000-60,000 CP. I now have to decide how much I really want to earn those trophies for maxing out those roles. I've already given up all thoughts of the trophy earned for maxing out all characters. (Seriously, maxing out all six roles for all six characters only gets you a silver trophy? That's at least a gold.)
So guess what this means? It means that I'm back in the groove for strategy guide reviews! You know, the whole point of this site. Here's what is on my plate for the rest of this month (which will be broken up a bit next week when I head out of town for the holidays):
Assassin's Creed Brotherhood (hooray!);
Epic Mickey; and
Mass Effect.
January will be about assassins, a mouse, and space marines. I can't imagine a better way to start the new year.