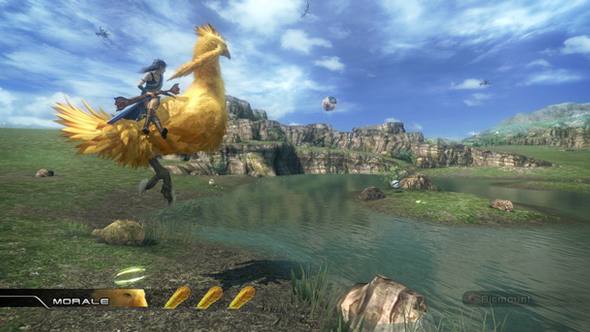 Everyone who voted in last week's poll regarding whether you finish your games all voted that they try to finish them. Either I asked a really bad question or all of you are terrible liars. Or you all really do try to finish games. The answer is probably the first theory, but my ego demands that it's the second.
No poll this week because I've been focusing on Final Fantasy XIII and not really much else. I took a brief hiatus to watch and laugh at the Video Game Awards on Saturday, and I have a few poll questions from that but I need to stay focused. Like my l'Cie characters in FFXIII. Baddum kssh!
It took me awhile to get back into the groove with playing FFXIII. Where I left off, I had a great rhythm going with the Paradigm Shifts, healing, buffing, debuffing, and generally kicking ass. It's now been about eight months since I played the game, and foolish me last saved right in front of a boss fight. A boss fight is never a good time to get back into a game, especially a game with mechanics as odd as this. So I had to run back and grind a little bit, which was also frustrating as hell because I'm so far in the game that all of the normal enemies are tough. I basically spent my first two hours on my first day with the game fighting about three enemies and one boss. Yes, I died that much.
On the second day, I started to have more fun. I got my groove back (like Stella) and worked my way through finishing Chapter 12. I'm now in the final chapter, and a warp gate opened up, allowing me to either grind my way through Eden (which wouldn't be a bad idea just for Crystarium development) or return to Pulse. I've jumped back into Pulse to try to take care of all the C-ranked missions. Most of the higher ranked missions don't unlock until after you finish the story, and that's fine. I just haven't gotten a new trophy in forever, and I want to get the trophy for completing the C-ranked missions and the Chocobo Treasure Hunt. I just unlocked the chocobo haven last night and it made me sooooooo giddy to see them.
So far, it looks like I'll be able to make good on my resolution. Another week of this kind of progress and I'll be good to go after the final bosses right before Christmas. I just wish there weren't six of them. Damn FF end games.