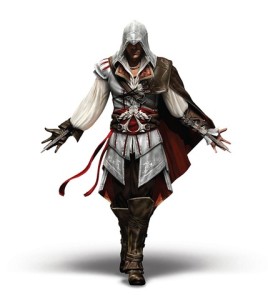 I was invited to a girls' night last night, where a few of my friends were having a huge bridesmaids' meeting and one of them was going to wax everyone's eyebrows in the process. I'm not a bridesmaid (nor am I invited to the wedding), but two of my friends in the party invited me over just to get out of the house after being alone last week and to get my brows waxed by a professional for free. I picked up Freebirds on the way in, had a delicious dinner, had some eyebrow hair yanked, and talked a bit with the girls.
And then the hostess's husband turned on Assassin's Creed Brotherhood in the next room. I excused myself from the wedding talk to see where Jarrett was at in the game, and as soon as I found out he was behind me in terms of story, I sat down next to him and played a bit of backseat driver. He and I had a blast. I especially enjoyed watching the different methods he employed versus what I have been using for the guide. Sometimes they made things easier, and other times it made things harder. Either way, we had some great laughs at some of the stunts he pulled. I'm still laughing at his accidental horse theft, where he dropped down from a building right on top of a horse and rider and roundhouse kicked the rider off his horse.
Two hours later, I realized that I needed to get home and play some ACB of my own and I probably should socialize with the girls some more since a couple of them invited me. My girl friends there were not surprised that I was gone the whole time, but the others were a little surprised that not only could I be entertained watching someone play a game, but that I'm also a gamer. I still get a little bit of glee when I shock other women with my hobby.
So all in all, it was probably one of my most fun girls' nights ever.