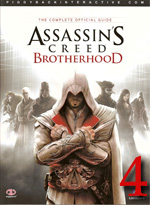 Authors: James Price and Zy Nicholson
Publishers: Piggyback Interactive
Editions Available: Paperback and Collector's Edition
Acquired by Distributor (Prima Games)
Strategy Guide Review Policy:
My goal for these strategy guide reviews is not to discuss whether one needs the guide to complete the game. Every gamer has different strengths and skills, and one may need every bit of a guide, another may need to look up information for quick assistance once, and another may laugh at the idea of ever using a guide, even the online freebies. My goal is to determine whether the guide is 1) helpful in the first place, 2) does it encompass gamers who need hand-holding as well as those who need a quick reference and 3) how much information does it really have.
Review:
To be completely honest, I was not excited to learn that Piggyback Interactive was yet again writing a guide for the Assassin's Creed franchise. Since the last guide for AC2 confused me quite often, I expected this one to do the same. I am so happy to announce that I was wrong.
Don't get me wrong; the [amazon-product text="Assassin's Creed Brotherhood strategy guide" type="text"]0307469697[/amazon-product] was not perfect. In typical Piggyback Interactive fashion, it appears to be more focused on design and being artsy instead of providing information that is easy to follow. The screenshots were once again too small to really follow, and in several instances, like with Leonardo's Machines, there were not enough of them. While I loved all of the art samples strewn throughout the book, I would have preferred less of them for larger screenshots.
In addition, there were a few blatant mistakes. In Sequence 5, the strategy given for assassinating the Banker is downright impossible to complete. The strategy recommends hiring a group of courtesans to blend with you and use them to help you walk to a bench for the assassination. The problem is that there are five guards blocking the way, two courtesans leave per guard, and if you step out of a blend spot by a millimeter, you are detected and desynched. The easiest method and perhaps the one intended by the game is to climb around the building that is not watched by any guards, and then easily slip from bench to bench. With this method, guards don't even bat an eye.
For Sequence 8, the guide suggests for players to use the gap between Memory 2 and Memory 3 to wrap up any sidequests. I'm not really sure how this is possible, because all three Memories run consecutively with no gaps. Memory 2 ends with Ezio watching Cesare run off toward the Apple. Memory 3 starts with Ezio chasing him. How is there a gap here?
The last mistake is from the Subject 16 Truth puzzles. Cluster 6 has an incorrect number in one of the solutions. Fortunately, the code for the code wheel is actually easy to determine, so this won't kill the game if you're like me and can't follow those code wheel puzzles for the life of you.
Those may seem like huge mistakes that should warrant a lower rating, but none of them are game killers. Well, the Sequence 5 thing was almost a game killer for me, but I have zero patience in general. Outside of these few mistakes, the rest of the guide was impeccable.
The strategies never lost me, and the screenshots that were available clearly pointed me in the right direction, especially those showing where Subject 16's marks are hiding. It even included strategies for the side missions that were exclusives, such as the Templar lairs and the Copernicus quests.
The guide also went above and beyond its call of duty when it comes to maps. There was a giant tear out map that marks pretty much everything you would see in the in-game map (but in color!), individual zone maps with the Feathers, Borgia flags, Viewpoints, and Truth marks, and for areas with some confusing platforming and/or stealth, path maps are included.
It also went above and beyond in terms of plot analysis. One of the best things the AC2 guide had was a plot analysis from the first game, the second game, and a full analysis of the confusing endings for both games. The ACB guide does that as well, which personally, really helped me in terms of fully understanding the very perplexing ending
So bravo, Piggyback Interactive, for making such an exceptional strategy guide and for making me eat my words. This guide is highly recommended for anyone who wants 100% synchs on everything, from the DNA Sequences to the Side Missions to the Secret Locations to the Guild Challenges.