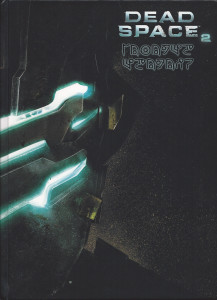 One [amazon-product text="Dead Space 2 strategy guide" type="text"]0307890090[/amazon-product] costs $19.99. The [amazon-product text="Collectors Edition" type="text"]0307891011[/amazon-product] costs $39.99. What justifies the $20 difference other than a deep love for the franchise? For die hard Dead Space fans (and I haven't really met any other type of Dead Space fan), there is plenty.
Outside of the standard hard cover and additional artwork, there are 48 additional pages of extra Dead Space 2 content. It contains the expected art section with concept art, which is quite standard these days for CE strategy guides and some regular standard issue strategy guides. In addition, there is a chapter that details the creation of Isaac's Live Action Suit along with interviews with its creators. An interview with Ian Milham, the Art Director for the Dead Space franchise, is also included and an art section dedicated to Christopher Shy's artwork, who is the artist of the Dead Space graphic novels. As an added bonus, there is a letter from the Church of Unitology, which is only legible to the fans who have bothered learning their unique alphabet.
What more could a fan of the series want?
This doesn't mean that the standard strategy guide has no bonus features. It contains the extra strategy guide for Dead Space: Extraction, the previews for upcoming Dead Space games, and tips and tricks for Dead Space: Ignition. There is plenty there for rabid Dead Space fans to enjoy without breaking their budgets.
Need more info about this guide? Our strategy guide review for Dead Space 2 is forthcoming.