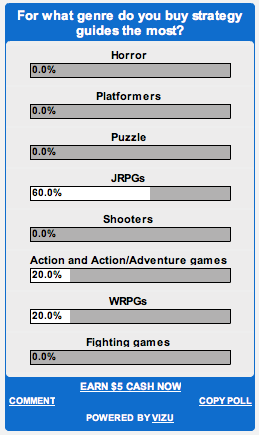 Huge apologies about the lack of writing last week. On Monday, a routine vet appointment for my beloved Chow Chow, Mufasa, turned into an all day emergency visit that did not end well. I love my dogs like I love my son, so I took the suddenness of it all really, really hard. I didn't even contribute to Games are Evil last week, and well, I didn't play any games either. Yeah, I was hit hard.
But I'm better now, and I'm ready to get my writing groove back on and continue my gushing over strategy guides. I have two strategy guide reviews planned for this week, AND I'm going to have a strategy guide giveaway for two different Collector's Edition strategy guides. Has your interest returned? Let us begin…
As for the poll from two weeks ago, I'm thinking that maybe I should have combined the JRPGs and WRPGs into just RPGs. But then again, it's interesting to see that the majority of you use guides for JRPGs. I personally find that JRPGs are more difficult in terms of gameplay just because the typical turn-based combat system creates really, really long battles. The super-secret stuff seems to be far more hidden as well than Western RPGs. I assume this is because JRPGs want you to play for a looooooong time.
My question this week is for a WRPG, and a famous one at that: Dragon Age. I've had Dragon Age: Origins and its guide for some time, but I keep getting distracted with other things. Now that DA2 is on the cusp of release, I've considered stopping Two Worlds II to pick up DA. In addition, since it appears that a print guide from BradyGames is not going to happen with Two Worlds II, I'd like to actually play something with a strategy guide so I can, you know, actually talk about guides here.
It's a crazy idea, I know.
I'm going to play the game anyway, but I really want to know from any of you who have played it if Dragon Age: Origins really is as great as the hype suggests. And if you have any suggestions for characters for the game, feel free to leave them in the comments.