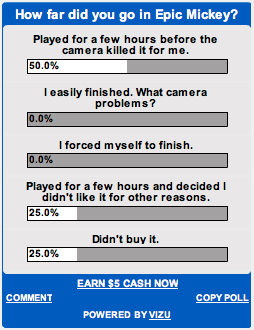 After talking to another friend this past weekend, I may be crazy for having problems with Epic Mickey, but eh, that's something I can live with. In other random Wii news, a friend from my Super Bowl party last night asked if I would come over and help her kids get through this one area in LEGO Harry Potter for the Wii. I got a chuckle out of it.
This week's poll focuses on genres for guides. I now get guides for all genres, because hey, what would be the point of this site if I only bought guides from one genre? But before I purchased this domain, I primarily bought guides for JRPGs and Legend of Zelda games. For LoZ, I needed the guides just to help me figure out where to freaking go. Bosses never really flustered me, but the insane puzzles of the dungeons always made me throw controllers.
For RPGs, I never wanted to miss things. I am obsessed with finding every little item and treasure chest. While some games made this fairly easy–just take the off-beaten path routes–others were super tricky like Kingdom Hearts and the older Final Fantasy games. Also, for the turn-based games, I wanted a guide so I could get through the long boss battles in just a few tries. Turn-based games really try my patience, and I hate spending 15-30 minutes on a boss just to die in the last few minutes (I'm looking at you, Final Fantasy X).
Since I just got into shooters in the last year, I've been enjoying those guides immensely to coach this little newbie along. At the same time, I often have to force myself to remember to even look at the guide I'm supposed to be reviewing, because I have way too much fun trying my own methods of shooting enemies into oblivion.
And now I turn the question over to you. If you don't buy guides, well, thanks for your support in visiting here at all!
Huge thanks to VisionaryLight for this week's poll question.