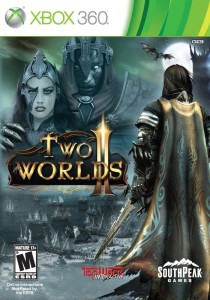 Even though Two Worlds II doesn't have a strategy guide as of yet (although I keep hearing that it is in progress), I'm reviewing the game for my other fabulous gaming site, Games Are Evil. I haven't played it very much because I have so many other distractions, like the Super Bowl and Plants v. Zombies for XBLA. Oh and I went to the Dallas Aquarium on Saturday. So last night was the first time since last Wednesday that I've played the game.
I was having issues with it just because of the display on my screen. The picture spilled off the sides, so I wasn't able to see any of the game hints, mini-map, or my health bar. I assumed it was my TV, so I wrangled with my TV settings, the Xbox settings, and last night, I went as far as to switch TVs.
Now this is the only game it has happened for. I see nothing in the game settings for shrinking down the picture. It's now 1 in the morning and I'm not thinking rationally. As I logged off, I saw one of my friends logging on with the same game. I frantically emailed him asking if he had the same issues. I then announced my frustration on Twitter, and another friend said he would help me out.
It turns out that if I had stopped thinking just once that the problem was with my TV and googled it, I would have found the answer in ten seconds. Apparently this is a common problem with the game, and it can be corrected by turning on the "Safe Area Interface" in the game display settings. I haven't tried it yet, but I'm really eager to tonight.
I've been excited for this game for some time, and I would have been HULK SMASH angry if I couldn't play it because I couldn't read what anything is. You know how hard it is to play an RPG when you can't read what you're supposed to do or what your health meter is? The answer is VERY.
Fingers crossed that it works without a hitch. I think my boss would be happy if I could actually review the game in a somewhat timely manner. Timely for me, unfortunately, is by the end of the month. Don't tell me how much I suck, I already know.