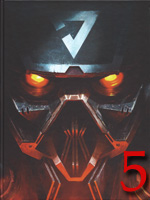 Author: Future Press
Publishers: Future Press and BradyGames
Editions Available: Paperback and Collector's Edition
Acquired by Publisher
Strategy Guide Review Policy:
My goal for these strategy guide reviews is not to discuss whether one needs the guide to complete the game. Every gamer has different strengths and skills, and one may need every bit of a guide, another may need to look up information for quick assistance once, and another may laugh at the idea of ever using a guide, even the online freebies. My goal is to determine whether the guide is 1) helpful in the first place, 2) does it encompass gamers who need hand-holding as well as those who need a quick reference and 3) how much information does it really have.
Review:
Calling Future Press' Killzone 3 Collector's Edition strategy guide a strategy guide isn't enough to express how cohesive this guide is. The term I prefer to use is "Encyclopedia Helghastica."
What gamers who purchase this guide will first notice is the high level of craftsmanship throughout. This guide was made with care, with a nice, smooth hardcover, glossy pages, nice layout and a significant ease of finding information. The interior of the Killzone 3 guide really does feel more like a reference book, with a professional layout designed for finding whatever tips you need as quickly as you can. Scanning pages for information is easy, simple, and straightforward.
The level of detail throughout is simply astounding. The Killzone 3 Collector's Edition guide was clearly written by someone who is extensively familiar with Killzone 3, if not a FPS pro in general, and the author explains everything with such detail that even Killzone newcomers can learn the game. Even just the basics of figuring out how to play Killzone 3 are covered. If the player's looking for something more advanced, they can turn to the game's extensive amount of tables throughout the guide that provide what appear to be exact measurements of damages, distances, and more. The guide even gives recommendations for controller settings for the DualShock 3 and PlayStation Move. The Killzone 3 Collector's Edition guide clearly is meant to take even the most inexperienced of Killzone gamers and help them get far better at the game with a combination of tips, statistics, and practice.
The single player campaign walkthrough tells the player everything they need to know, from the best weapons to use to get through particular situations to the best positions to attack from and how to get Trophies in specific areas. The positions are mapped out on overhead view maps and screenshots of specific areas are included to give the player an idea of where they should be in a specific area of the game. The only problem is that the overhead maps, while marked, can sometimes make finding where the guide wants the player to go awkward because they are so zoomed out. A zoomed out view is not how the player experiences Killzone 3's world and the screenshots can be more helpful in terms of finding exactly where you're supposed to be.
If the player needs even more help, they can register their guide at Future Press' website to view videos of the guide's walkthrough being played in Killzone 3. Not all of the videos are up as of this writing, but the ones that are clearly were captured in high quality with good sound. Commentary with the videos would've been nice, but Killzone 3 is a pretty straightforward game and even has a button to show you what direction you're supposed to go in, so this is just a minor nitpick.
As for the multiplayer, the Killzone 3 Collector's Edition guide multiplayer section weighs in at somewhere shy of two hundred pages. No, that's no typo; nearly two hundred pages of this guide are dedicated to Killzone 3's multiplayer and again, everything is covered. All of the classes are covered, with details on exactly what abilities do, what weapons the classes utilize and how each class can function best in multiplayer. The maps section, though, is perhaps the most impressive achievement in the whole guide. The maps section includes descriptions of key tactical areas with tactics players should use to take them, Warzone objective locations with offensive/defensive strategies for those objectives, what each class can do to contribute to a team victory, and the best strategies for each mode of multiplayer (Guerrilla Warfare, Operations, and Warzone). Medal and ribbon earning strategies are also detailed.
The Killzone 3 Collector's Edition guide from Future Press is a must own for anybody who wants to get better at playing Killzone 3 or just likes playing Killzone 3 in general. The Killzone 3 CE guide was clearly built to help anyone with any degree of experience in FPSes get comfortable playing Killzone 3 and then get better at the game, in addition to helping existing Killzone 3 players improve their skills. Add the level of presentation and ease of finding information into the mix and Killzone 3 gamers honestly couldn't ask for a better strategy guide.
Final Score: 5/5