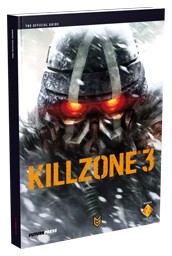 In honor of our Killzone 3 strategy guide review, we're giving away the actual guide! Apologies that it's not the Collector's Edition, but I think you'll find this one to be just as nice. It's still in its wrap, so it's never been opened. You can't get a better deal than that.
Entering is simple and just like all of the previous giveaways.
Leave a comment on why you want the guide here on this post.
Become a fan of Strategy Guide Reviews on Facebook and comment about this giveaway.
Follow Strategy Guide Reviews on Twitter and either retweet this giveaway announcement or send me a reply about why you want the guide.
Each counts as a separate entry. Winner will be announced on Friday.
Good luck!