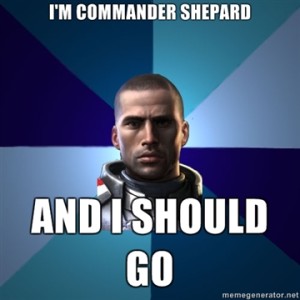 I wasn't planning on finishing Mass Effect last night, but considering that the second to the last chapter pits you at a really climactic point in the story, I couldn't stop. I probably should have, considering I wasn't counting on the sheer difficulty of the final boss over everything else in the game (serves me right for not sidequesting more), but even though I finished at 2 a.m. and I'm exhausted today, it was so worth it.
I've said many times that Lost Odyssey is the best RPG I've ever played. I have to say that at about halfway through ME, though, that LO has lost that honor. LO is now the best turn-based JRPG I've ever played and ME is the best RPG I have ever played. I've been told I should hold off on bestowing such a title until after I've played Mass Effect 2, but that remains to be seen. I've heard that it isn't as much of an RPG as it is a shooter, so the first game may hold onto that title yet.
I have to say that I'm pretty pissed at myself for not listening to my friends and getting into this game sooner, like when I first started to enjoy shooter-based games. Three friends in particular I have to hold my head low and tell them they were right, and I should listen to them more. I suppose this means I should actually get serious about Red Dead Redemption. That game has actually moved up in the backlog, but it's firmly planted behind ME2. If it wasn't 2 a.m., I would have popped that disc in immediately. I cannot wait to get that started tonight or tomorrow.
I am still contemplating playing the game again as my current Shepard to boost her levels and actually play some sidequests and maybe the DLC. I'm also really tempted to start a new career and play as a Renegade since I was a Paragon this time. However, I've also said that I would do that with inFamous, and well, I haven't gotten further then the first couple of chapters for that playthrough. Guess I should hurry up on that since inFamous 2 is coming out in June.