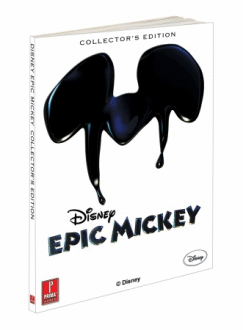 Thanks to everyone who participated in the last strategy guide giveaway, where the Collector's Editions of the Alan Wake and Tekken 5 strategy guides found new, loving homes. This week, I have another Collector's Edition guide that needs a loving owner: Epic Mickey.
From Prima Games' website, here are the features included with this Collector's Edition in addition to the gorgeous hardcover shown to the right:
• Collector's Edition includes the complete Disney Epic Mickey game guide!
• 40+ fully labeled world maps and extensive walkthroughs reveal the secrets behind every quest, puzzle, boss battle, and hidden area to help Mickey in his quest to save Wasteland!
• Exclusive developer content! Foreword written by the game's creator, Warren Spector. Plus, Warren Spector answers questions about the game and its creation in our 16-page bonus section.
• Limited edition art: 8″ by 10″ reproduction cel of artwork inspired by the game!
This guide is absolutely gorgeous, and the limited edition art is something I would love to hoard for myself. If only I loved the game as much as I love this guide. Pity.
Want to win this beauty instead of paying the $29.99 retail? The following lists how you can enter to win. You don't have to do everything, but it is highly encourage. For every task you complete, you have one entry to your name. Good luck!
Retweet this giveaway announcement.
Send me a tweet telling me why you want the Epic Mickey strategy guide.
Post a comment on the Strategy Guide Reviews facebook page about why you want the Epic Mickey strategy guide.
Comment here on this blog, on this post about why you want the Epic Mickey strategy guide.
The giveaway ends on Friday, March 11th.