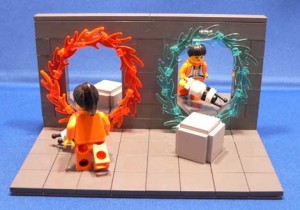 Last year, my good friend MattG of PresstheButtons.com and I challenged each other to a game that would take us out of our comfort zones. This started with me berating him for not playing Heavy Rain and promising him I would send him my copy. He then felt that I needed to be challenged as well, so he ordered me to play Portal. The challenges have since then grown to three, but we'll get to those at a later date.
I originally purchased Portal on XBLA, and I made it all the way to Chamber 15 before grinding to a frustrated halt due to difficulties mastering the double fling. I said I would get back to it, and I meant it, I just wasn't sure when or if I could bring myself to go through something that frustrating again. When I joined GamesAreEvil.com and subsequently, their EvilCast podcast, the guys there told me to play on the PC and pretty much promised me that I would have a far easier time with it. It happened to be on sale on Steam one day, and I purchased it (yet again!) and then let it sit.
Some fire must have been lit under my butt or something because I randomly decided to start playing Portal again two Fridays ago. Not only was double flinging far easier to do with a mouse and keyboard, but the whole damn game was far easier and far more enjoyable. I finished it just a few days later, and the first thing I did (besides laugh at the end theme) was text Matt and tell him we were finally tied 1-1.
I am very, very glad I played Portal. It offers a very unique puzzle experience that I probably won't find again until Portal 2. That said, it is very doubtful I will play it ever again. The purpose of these challenges was to take us out of our usual gaming forums, and well, Matt couldn't have nailed that on the head any better. I was way out of my element. Once the turrets were introduced, I began to stress. I haven't played a first-person shooter game since Doom II, so I was already coupled with that barrier, but then throw in very unusual puzzles, some platforming where I can't see my feet at all, and things shooting at me without the ability to properly shoot back and you had one very high strung gamer clicking the mouse. In the second to last Chamber where you had to yo-yo yourself up a series of platforms, you had one very high strung gamer with a bit of motion sickness.
And the last level…WOW. Every time I thought I made it through the hard part, I was tossed into an even harder part. Thank God GLaDos' dialogue was so damn entertaining. Oh, and thank God for lots and lots of check-points. I died more often in the final level than I did throughout the rest of the game. That shouldn't be that surprising considering that the last level is the longest of all the levels, but it really raised my blood pressure.
So yes, great game, and it's definitely one I will remember the rest of my life (I can't forget it now, because I hear the sound of the moving platforms in my sleep) and will highly recommend to others, but I am so glad that challenge is over. Now it's on to two others that will take me considerable more time.
Oh and by the way, THE CAKE IS NOT A LIE!!