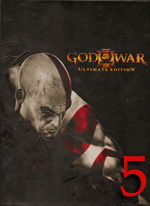 Authors: Michael Lummis, Peter McCullagh, Stacy Dale, James Manion, & Samuel Chartier
Publishers: BradyGames
Editions Available: Paperback and Ultimate Edition
Acquired by Purchase
Do you like Greek Mythology? Perhaps you enjoy a little bit of a revenge plot dabbled in action and adventure? God of War III features all of this along with a lengthy and full fledged adventure! But before you head out on this quest you will probably need some help and this is where the God of War III Collectors Edition guide makes itself known. Putting your enemies away has never felt better and now this guide tells you exactly how to do it with grace.
One of the fine points of this guide is its beautifully embossed hardcover, complete with Kratos' likeness on the front and some beautiful images inside. The features in this book are really well done; it covers everything from the history of the story, maps, walkthroughs for each act, and an extensive collectibles guide, and it even features concept art with behind the scenes comments of the process by the development team. There are also concept images of the main characters as well as their story and a complete bestiary of all types of creatures/enemies in the game.
Starting off with this guide it really tells you everything you need to know about the game. This is one of those rare, really well-written guides that if you follow it you WILL get everything accomplished in the game. I am by no means the best video gamer in the world but accompanied by this guide, I was able to beat this game on my first play through on its hard difficulty (Titan) as well as collect every collectible I needed for their respective trophies.
Now that brings me to my next topic of this guide. It has what myself (along with Keri) think every guide should have, and that is an extensive Trophy/Achievement section. This guide tells you every single trophy in God of War III along with its value and how to get it along with other various details about the trophy itself and what part of the game it's in. I myself am a "Trophy Hunter" on PS3 so I value that kind of information in a guide; it helps me earn that ever-so satisfying *ding* of a Platinum Trophy popping!
Those really tough boss fights keeping you away from getting to the next point in the game? This guide tells you strategies and weapons to use on each type of enemy and boss as well as their weaknesses, so next time you take them on you will know exactly where to bring on the hurt! It really helped me for some of the later fights in the game that can be a "pain in the Pandora's Box."
Another neat thing this guide does is when you do get to that boss fight, it gives you their back story along with pictures of them to really get an idea of their character. It also really gives you this feeling of really knowing everything about the game and its universe, even if you have not played the previous two entries in this series.
As you proceed through all of the acts of the game, this guide tells you every encounter and which enemies there are to deal with and how to dismantle them, which makes you feel like you know the game inside and out. When you go through each room, the guide tells you if there are collectibles in the room and how to reach them along with a map. There are also moments where you will probably need to read exactly how something is done but you don't want to really spoil it completely, but this guide offers "Small Hints" and "Big Hints," so you can try to figure stuff out for yourself unless you really get stumped and cannot continue on your journey.
Those features along with all of the art, story background, enemy information as well as the breakdown of how everything works, how to acquire every trophy in the game, and the overall design and composition of the book, really makes me recommend it to anyone who wants to pick up this great game and know everything about it and achieve everything you can. What better way to top off the "Ultimate Edition" of God of War III than with the Ultimate Edition Strategy Guide?