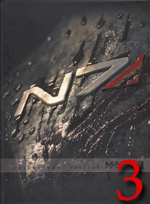 The first Mass Effect strategy guide was also published by Prima Games, and since that one did so well, I had very high hopes for this one. The fact that Catherine Browne was the author of this guide only made me more excited. However, this guide ended up being a giant disappointment for me–as my big build-up should have already suggested.
A lot of what the guide has is great. It incorporated the same layout from the first guide, so everything is very easy to see at a glance, and the images are unobtrusive, significant, and won't require users to squint. It's also great that it makes little notes of who Shepard can romance (depending on gender) as well as how one can go about doing it. For example, romancing Jacob takes a lot of subtlety and gentle prying for him to come out of his shell. For Jack, you have to gain her loyalty and either side with her in her "disagreement" with Miranda or diffuse the argument with charm/intimidation. In addition, as someone who imported Shepard from the first game, I really enjoyed the little callout references to things that happened in the original, such as the explanation for why Wreav or Wrex might be the krogan leader.
However, despite all these design elements and the mostly accurate walkthrough, the guide is missing a lot of vital information. These omissions will cause problems and confusion for those who 1) want to snag all of the Achievements/Trophies and/or 2) imported their characters from the original Mass Effect.
The first omission that surprised me was a side mission Shepard can take on Illium. Shepard runs into Giana Parsini from Noveria Internal Affairs, a character only those who have played the first game will remember. She approaches Shepard and asks for help busting a weapons thief. It's possible that this is a mission a player can only get with an imported game, but that's really not an excuse for it to not even be mentioned in the side missions section of the guide. Since this was so small, I dismissed it.
But then, I reached the start of the endgame.
From the time I had to play as Joker until the end credits, I was finding holes in the guide. For the scene that you have to play as Joker, it really offers no guidance other than walk the path. However, at one point, if that's all you do, Joker meets a nasty end. The guide showed a screenshot of what you should do at this point, but there were no captions or mentions in the paragraphs as to what the screenshot even meant. For all I knew, it was just a screenshot of Joker walking down the hallway. At the very end of this venture, when Shepard has a choice to go after the Normandy crew or continue sidequesting, the guide discusses all of these options, but never once says that if you don't go after your crew immediately, they all die except for Dr. Chakwas.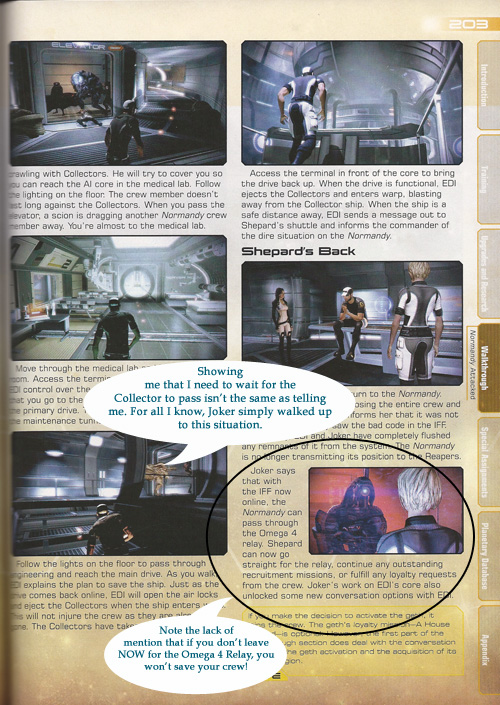 This isn't the only time that users aren't given proper warnings for who might die in Shepard's crew. The guide does mention that if the ship isn't upgraded properly, a crewmate will die in the ensuing crash, but that's pretty much where the advice stops. In the Mass Effect 2 endgame, Shepard has to make choices of who is to perform a certain task, who will accompany Shepard, and who will lead a separate party. Shepard has to make these choices three times, and depending on who the Commander chooses, crewmembers will live or die. During this entire section, no suggestions are proffered. I would understand if the writer didn't want to give too much away at this point, BUT, these suggestions should at the very least go with the Achievements/Trophies appendix, since this is where the "No One Left Behind" Achievement is described.
As a result with my playthrough, Mordin died at the very, very end and I had zero clue why. I stayed up another hour longer to read the guide from cover to cover, to make sure I hadn't missed anything. No explanation. I ended up going to IGN Guides, and they explained exactly who Shepard had to pick for these tasks in order to keep everyone alive. When I replayed the ending with their suggestions–the only thing I didn't do correctly was who to send with the Normandy crew survivors back to the ship–everyone survived. While it is possible that the guide writer picked the correct crewmembers instantly, surely the "No One Left Behind"Achievement would clue in the writing team that it's possible for teammates to die.
This experience absolutely enraged me. Of all the information this guide should have had, every scenario of the endgame should most definitely have been included. If I had paid for this guide, I would be even more livid, which is perhaps the biggest disappointment to me.
I can only recommend this guide if you are a huge Mass Effect fan, just because the gorgeous cover and artwork within make it worth it. Otherwise though, save your money and stick with IGN for help with this one.
SGR Rating: 3/5
Author: Catherine Browne
Publishers: Prima Games
Editions Available: Paperback and Collector's Edition
Acquired by Publisher