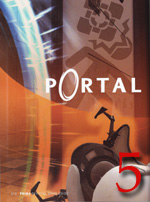 Authors: David SJ Hodgson, Stephen Stratton, Miguel Lopez
Publishers: Prima Games
Editions Available: Paperback
Acquired by Purchase
Strategy Guide Review Policy:
My goal for these strategy guide reviews is not to discuss whether one needs the guide to complete the game. Every gamer has different strengths and skills, and one may need every bit of a guide, another may need to look up information for quick assistance once, and another may laugh at the idea of ever using a guide, even the online freebies. My goal is to determine whether the guide is 1) helpful in the first place, 2) does it encompass gamers who need hand-holding as well as those who need a quick reference and 3) how much information does it really have.
Review:
Reviewing this guide was rather unconventional as it was one of five guides crammed together in The Orange Box strategy guide. It contained guides for Half-Life 2: Episode 2, Team Fortress 2, Portal, Half-Life 2, and Half-Life 2: Episode One. However, each section really can be partitioned out of the guide without losing any contextual information as its own guide, and since I've only played Portal, this is the only chapter being reviewed from The Orange Box strategy guide.
And honestly, Portal could have used a guide all for itself.
The game is one of the most interesting and unique puzzle games to hit the gaming market, and these multi-dimensional brain teasers practically scream that they need a guide (especially for those with little patience). Sure, it starts you off gently enough, but just as you think you've mastered it, that's when the game really begins. Thankfully, the guide flawlessly meets the required expectation and demand (and with plenty of humor to boot).
Two things were vital to this guide: great description and lots of significant screenshots. While the guide's wording occasionally confused me as to where I should be looking or aiming, the screenshots never failed me. The screenshots were clear, perfectly zoomed in/out, and all showed exactly what a player would need. There was no staring at a screenshot, trying to figure out exactly where this was taken. This became extremely important for the last level, where it was hardly ever obvious where you need to place your portals, especially during the final fight with GLaDOS. Not to mention, all of the screenshots were dead-on correct. While playing, I tried to figure things out for myself and then looked to the guide. More often than not, the guide's method for portal placement made things far easier than what I used.
The guide also included detailed strategies for the various advanced maps and challenges for Chambers 13-18, including how to receive all the different medals. These strategies involve quite a bit of Portal-science terminology, such as Double Fling, Floor-to-Floor, and Portal Ledge, so if you don't remember exactly what these are referring to, don't think you have to go flip back through the guide to hunt down those original definitions. The beginning of the guide includes a nice little glossary with examples of what these techniques mean. It also contains nice little background pieces on Chell and GLaDOS, which was perfect for me as I was too busy concentrating to constantly listen for GLaDOS's hints in her ramblings.
The authors could have made this guide really cut and dry, but they seem to have the same twisted humor as GLaDOS. I actually did laugh out loud quite a few times. The following is one of my favorites:
Don't worry, nothing will happen if you retrieve the Cube from the button and drop it into the incinerator. Nothing, except murder! Just kidding. Remember: It's just a Cube. One the bright side, you'll have plenty more chances to incinerate deserving inanimate objects in due time.
As an added bonus, the back portion contains a choice selection of concept art, which includes designs for the original portal device (which was a little surprising) and even a screenshot of the cake that was not a lie.
For such a small game, the guide packed in a lot of detail and made it as fun to read as the game was to play. The Portal strategy guide strongly deserves the 5/5.