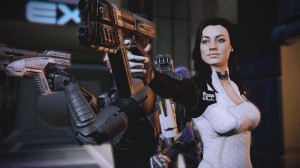 The story still hasn't won me over (it feels like a giant grab-bag to me) but the gameplay has me sucked in like you wouldn't believe.
My son stayed with his grandparents over the weekend, and I had planned to use the weekend to finish up both Final Fantasy Dissidia Duodecim and The 3rd Birthday. Instead, I found myself turning on my Xbox and cruising all over the galaxy with my incredibly awesome Commander Shepard. I was so hooked on hunting down N7 missions that I didn't quit last night until 2 a.m. (I am paying for that today, ugh.) According to the strategy guide, I have 4 N7 missions left and 1 loyalty mission left before I go on the suicide mission. If I could take today off and play Mass Effect 2 all day to finish the game, I so would.
Of course, I guess I won't really be finished with the game for awhile, since I've already decided to invest into the DLC.
As much as I loved the first Mass Effect, I have to say that it didn't get its hooks into me this badly. I'm constantly thinking about this game. I think about what I need to do to get this or that research project, I think about things other characters have said about me, I think about all of the references to things I did in the first game, and I think about how pissed I am that Kaiden was such a jerk. I also chuckle to myself if I think of the spam email my Shepard receives in her inbox. Today, I'm livid that everyone on my ship was killed by a Collector attack. I'm very happy that Joker survived, but I miss my assistant. EDI tells me I have emails now, but it's not the same. I miss my Scottish engineer. And I can't help but wonder why I bought my chef good food to make if he was just going to get carted off and/or killed anyway.
As much as it is going to pain me though, I'm going to have to let ME2 sit idle for the rest of the week so I can finish the other games I'm reviewing for GamesAreEvil.com as well as their accompanying guides. Not to mention, Portal 2 releases next week. If I can get all three of these games done by the time that game is available for Steam download, it will be a huge victory.
And as a side note…if you ever play as a female Shepard, try to romance Garrus. The dialogue alone is worth it.