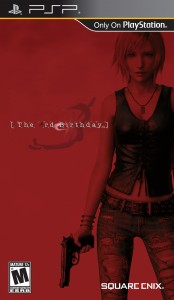 Believe it or not, I actually wrote my official game review of The 3rd Birthday awhile ago, so at least I'm not slacking on all levels. Just don't ask me how Portal 2 is coming, okay?
But back to The 3rd Birthday, this game captivated my attention at last year's E3. Granted, all I saw were cut scenes (as is Square Enix's forte), but they greatly impressed me how crisp and beautiful they were for a PSP game. I knew nothing about the Parasite Eve series, but I really wanted to try this game.
Unfortunately, also in Square Enix style, the game itself did not live up to the gorgeous cut scenes. From my review over at GamesAreEvil.com:
Aya Brea is back, still not wearing anything that could be considered armor, and shooting away. That, along with a few returning characters, are the only similarities the game has to its predecessors. This is not necessarily a bad thing, as it incorporates a really unique and fun combat system, and it's always nice to try something new in a series of games. Unfortunately though, an incredibly weak story and unlikeable characters ruin any momentum this game might have generated….

In addition to the unique gameplay, The 3rd Birthday has something else that one would expect from Square Enix: beautiful cut scenes. Square Enix rarely disappoints on that front, and this game is no exception. I mentioned earlier that that blood geysers are outrageous, but in cut scenes, they are downright beautiful. Everything is so breathtaking and crisp, that it's hard to believe that this game is on the PSP and not on a major console.

If everything else was as well done as the scenery, the gameplay, and the cut scenes, then we might have had a Game of the Year contender. The plot, though, is its biggest adversary.
I depend on great stories to carry me through, and sadly enough, The 3rd Birthday did it until the very, very end. Once the big secret was revealed, I was left with nothing but disappointment. I'm very glad I played it, but I can't recommend it to many of my friends. If you like lots of collectibles, high replayability, tons of unlockables, and dressing girls in very little clothing, then this game will be straight up your alley.