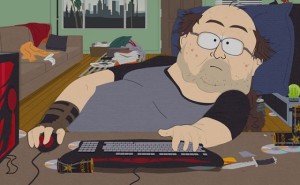 So I've learned over the last couple of weeks that there is a bit of a steep learning curve when it comes to PC gaming. Portal was a nice, slow introduction to it, especially since the last PC game I seriously played was either Warcraft III or Age of Mythology. So I [wrongly] assumed that picking up any other PC game would be just as easy to learn and just as intuitive. Oh how much Dragon Age: Origins has taught me this is not the case.
For starters, there really isn't a great tutorial for the controls. The game goes over distributing orders, leveling up, setting tactics, and the like, but it never–unless I missed it completely–goes over camera controls. Until yesterday, I believed that there was no way to rotate the camera, which forced me to constantly play in the overhead view. I like this view for combat and issuing orders, but I don't like it for exploring and general running around. Not to mention the fact that I couldn't figure out how to turn around so I could open doors that were behind me. I was having some serious buyer/seller remorse over it.
So yesterday, after dying a lot because I couldn't rotate the camera enough to really figure out who all was attacking me and where they were coming from, I pulled up the options screen. There had to be a way, dammit! And yeah, there was. There are some really simple keyboard controls that handle all of that. And hey, I can use the keyboard to move my character! I don't have to use the mouse to click on set positions all the time! The game's controls are actually fun now!
And while I back in the options area, clicking around on everything to see what other vital information I might have missed, I noticed that my resolution was set at 800×600. No wonder the graphics looked worse than the 360! Once I reset them to my Mac's lovely 1440, the difference was unreal. No more pixels, my character looks as awesome as she did–actually, more awesome–on the 360, and unlike the 360, there are no framerate issues. The game crashed on me once, but I'm hoping that was a hiccup and not a result of Bootcamp taking a dump with the upped resolution.
So hey, DAO is fun again, I feel like a complete idiot, and I'm looking forward to getting into some more PC games. Just don't tell my EIC over at GamesAreEvil.com!