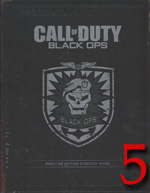 It's time to strap up and lace your boots; we're going in and this time it is with the Call of Duty: Black Ops Limited Edition guide! Real soldiers never enter the battlefield without pre-hand knowledge of the layout and intel of the missions details, this guide will help you with both and then some!
I prepared to play through the game again to properly review the guide because it would be unfair for me to expect you to go into battle without properly testing the tools myself! That's like me telling you "this vest is bulletproof!" without testing it. That's no fun unless you're getting hazard pay.
I am going to break this review up into two parts, the single-player and multiplayer. First let's start with the single-player campaign. I started this game up again on the games hardest difficulty "Veteran," so I could really test the guide and see how it helps in situations where you need it most. Starting off with the first few pages the guide has general tips on how things work in Call of Duty: Black Ops such as the obvious advice on taking cover as well as descriptions of the different types of weapons.
Going onward with the missions you are greeted with the name and details of the mission as well as a nice top-down 3D view of your starting point and the point you need to get to. The thing I like about this guide is that it tells you what weapons you started with and when you eradicate certain enemies the guide will tell you what weapon they are carrying and if it is worth it to switch out over your current loadout. I also really like how in most situations the guide advises you on the best place to take cover for that wave of enemies and what to look out for. I completed it already on Veteran when the game launched but I found the guide to be helpful for spots I used to have trouble with where now I know exactly how many enemies are coming and what weapons they planned to use on me and where I needed to be. It really helps to know those details, and I am glad they were able to provide them throughout the game!
I had some trouble with one of the stealth missions where I was going for a trophy where you do not get caught but after referring to the guide I was able to get the trophy as well as silently put the enemies to sleep.
Moving on to something some of you might know, I go for on these games are the Trophies. Yes those satisfying little *dings* of accomplishment you get. I am pleased to report this guide will tell you when you are coming up on a Trophy/Achievement and how to go about getting it which gives this guide some cool points from me. When you are going for the Intel Collecting Trophy/Achievement the guide has that same top-down 3D map as you move through the rooms and shows you where the intel is located. This is really handy so you don't have to worry about looking for a separate or better guide as this one tells you everything you need to know about the Trophies/Achievements and collectibles.
There are some Trophies/Achievements in the game that make you do the mission a certain way (getting into the relay station without being caught, escape the ship with 2:15 left on the timer, guide the squad through an outpost without them getting killed), if you don't know exactly what you are doing or if you are coming up on it the guide is sure to tell you how to get the Trophy/Achievement prize on the appropriate levels.
The guide also features a comprehensive tips and strategies section for the Zombies mode. I have never been good at the Zombie mode solo but using some of the tips and the maps it provides have made me a better player at it, for example where to turn the power on and rooms and points of interests and where the Mystery Box spawns in which is a box that can randomly give you some very awesome weapons. I found the maps to be quite helpful as to find out where to make my stand during each round.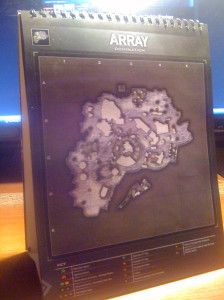 Now we move on to this franchise's probably most popular mode: the online section. Looking through the tips it gives you on Perks and Loadouts are always interesting as well as information on every single weapon and attachment. The guide of course also features maps of every level as well as the hot spots in them and tips on every mode and suggested loadouts to use, but the real surprise with this guide is that it comes with an extra bit of help in terms of a foldout "Multiplayer Tactical Recon Stand." This thing is truly neat; it stands up and lets you flip to the level you are currently playing and it shows you depending on the gametype the objectives you need to get to as well as the player spawns, flag bases, and everything! This was something I personally have not seen before and it really surprised me how much trouble they went through to produce it at such a high quality. This is not just some cheap poster, but a cool and useful tool if you find yourself wanting to know all of the ins and outs of a level while playing it and feel like a pro.
Overall I could not find one thing to complain about (believe me I tried!), so far the two "Collector's Edition" guides I have reviewed from BradyGames (God of War III and this one) are both top-notch and deserve a place on your "Shelf of Help" (I need to copyright that) where all of your guides go.
*Guide was provided by Keri at StrategyGuideReviews.com, played through on Veteran Difficulty gathering all Intel as well as scooping up any situational single-player trophies that I missed on my initial playthrough.*
Authors: Thom Denick, Phillip Marcus, and the Sea Snipers
Published By: Brady Games
Editions Available: Paperback, Limited Edition
Acquired via Publisher
SGR Grade: 5/5