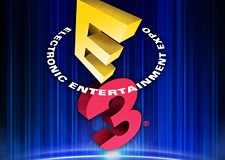 As usual, E3 was absolutely insane. I mistakenly thought that since this year I would be making my own schedule that it wouldn't have been as chaotic. Silly, silly me. I had meant to write up what I saw, who I met with, etc. here but as you can see, it most certainly did not happen.
However, if you want to see what I wrote about E3 and what my compadres at Games are Evil had to say, then please visit our E3 section. I'm sure the guys will be adding more over the days to come after they've had a few more hours sleep, so if you like what they have to say, please keep coming back for more.
I would like to personally thank the representatives from Future Press, Prima Games, and BradyGames for taking time out of their very busy schedules to meet with me and totally geek out about all things guides and video games. I had an absolute blast meeting you all.
And that is it for me for a few weeks. My flight to Tokyo leaves tomorrow morning at 7:30, and I am not bringing the laptop or the iPad. I will, however, be taking with me a number of strategy guides to keep me entertained and working a little during the very long 12-hour flights.
See you all after June 25th!