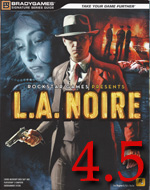 L.A. Noire is a new and different kind of game that combines open-world and adventure game elements, testing the deduction capabilities of gamers as much as their action game skills. For such a game, an exhaustive guide is required and L.A. Noire has quite the official game guide from BradyGames that will make playing a breeze for anyone who might be having trouble. However, the same near-perfection that will help any gamer play through L.A. Noire may also end up telling some gamers a bit too much.
The L.A. Noire Signature Series Guide from BradyGames leaves no stone unturned. Every single process gamers will need to help them solve each and every case is written out as precisely as possible. Every vital piece of evidence is detailed and shown in screenshots when possible. Every interrogation choice is spelled out one hundred percent correctly, down to the details of each response to each question. The guide even details how to approach each chase or action sequence that may occur in a case.
The only problem with the guide isn't actually a problem, per se; the guide does its job a little too well. Playing L.A. Noire step-by-step with this guide is like playing the game on autopilot. Everything is spelled out in the guide with so much detail that nearly no guesswork is required by the player. Giving this much information is necessary to help a gamer get through whatever part of L.A. Noire that they're having problems with, but at the same time, the level of information makes playing the game too easy. Admittedly, saying that a guide does its job too well is a rare Catch-22 for strategy guides.
Also, the guide has a few minor inconsistencies. In one case, the availability of a view outside a window (not necessary to solve a case at all) is available after an interrogation, not before. In two cases, evidence marked at C or B are mixed up with each other. The guide also incorrectly lists an event from a character's past as happening in Sicily, when the game describes the event as happening in Syracuse. Again, the inconsistencies are minor and mostly affect nothing at all, but are a little noticeable in an otherwise perfect guide.
Visually, L.A. Noire's official strategy guide is well designed, with easy to find information. The guide has tons of boxes in the form of torn pieces of paper–consistent with the instruction booklet's design–which list everything that needs to be done. Interrogation sections get their own formatting so that they stand out more. Locations on maps in other guide sections are labeled as close to spot-on as they can be on L.A. Noire's enormous map. The guide has high quality screenshots that show exactly what the player should be looking for, down to the faces of persons of interest during interrogations so L.A. Noire players can get a feel for Truth and Doubt or Lie faces.
L.A. Noire's guide from BradyGames is of great quality and will help any player of any skill level who wants to play L.A. Noire and beat every case with a five star rating. Using this guide as a companion or as needed instead of following the guide's advice page-by-page is recommended, as part of the fun of the L.A. Noire experience is solving the cases for yourself. However, anyone challenged by L.A. Noire who just wants to play through the story and not have to worry about messing up a case will find this guide to be exceptionally helpful. BradyGames' guide is written well, well detailed and the best resource a gamer could have to get to the bottom of each and every case Cole Phelps is assigned.
SGR Rating: 4.5/5
Authors: Tim Bogenn and Rick Barba
Publisher: BradyGames
Editions Available: Paperback
Acquired via Publisher