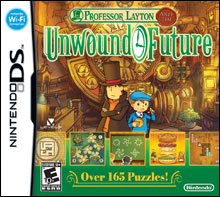 I specifically packed Professor Layton and the Unwound Future in my Japan luggage because I knew this would be the perfect time to play it. This game was meant for those train rides! And sure enough, I was right; those train rides were perfect for solving a puzzle or two.
However, like its predecessors, the story behind the puzzles is what kept me up until 1 am playing, despite the fact that I had walked my feet off all around Japan that day.
All of the Professor Layton games have stories that completely jump the shark, but they fit in a way for why this professor of archaeology and his groupie constantly run into people with puzzles to solve. The stories would NEVER fly by anyone without the puzzle solving mechanics, and I think that's part of the charm and fun of the games. The story of the Unwound Future jumped a bigger shark than the others–I'd love to explain why but I won't for spoilers' sake–but I found that I liked it best. It centered around some of Layton's past and explained the histories behind a few running characters, which really appeals to fans of the series.
As such, it's difficult to recommend this game unless you have played the first one, Professor Layton and the Curious Village, as so many characters are given zero background information. For example, without playing the first game, you will really have no clue about Don Paolo or Clara or even Layton's history with Inspector Chelmey. It also goes without saying that if you didn't like either of the first games, you won't like this one either. It's more of the same, more mini-games, and more brainteasers.
I cannot wait for the fourth game to release in the states.