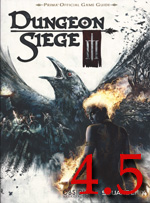 Dungeon Siege III is a creation of Square Enix and Obsidian, although neither worked on the first two games. There wasn't a lot of hype for the game, which could be partly Uwe Bolle's fault for producing a horrible movie about the original game, which is a shame because the action-RPG is actually quite fun. Despite many people's misgivings about Obsidian's hands in the game's development, Dungeon Siege III turned out to be a beautiful and highly enjoyable game. Prima Games' strategy guide for Dungeon Siege III turned out to be the same: beautiful and highly enjoyable.
The Dungeon Siege III strategy guide implemented my two biggest requirements for any strategy guide beautifully: maps and easy-to-follow walkthroughs that include sidequests.
Until I realized that I could turn off the auto-camera for the mini-map in my upper right corner, the maps in the guide were a godsend. Since the mini-map turned whatever way I was facing, I got turned around a lot, especially in the underground areas (*coughdungeonscough*). At least with the maps in the strategy guide, I could see that I needed to head west and then just follow the marks on the mini-map compass. The maps were clear, easy to follow, and all chests were clearly marked. Can't really ask for much more than thatn.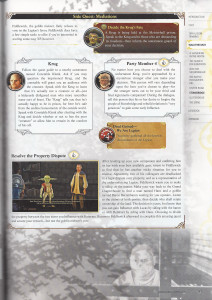 As for walkthroughs, they were 100% spot on. DSIII is an action-RPG that is well, quite linear, so while it's fairly impossible to not find where you're supposed to go to advance the story, it is very possible to miss out on sidequests. And what is an RPG without loads of sidequests? A very short story that will be next to impossible to complete. If that isn't enticing enough, there's also a Trophy/Achievement for completing all of the sidequests along with completing the game. Here is where I put the strategy guide to the test, because if I missed out on that Achievement, well, I probably don't need to paint that picture for you.
Long story short, I snatched up that Achievement with ease, and I owe a lot of it to the guide's help. Numerous sidequests were in areas I didn't think of going–even while exploring–and at times, I never would have found the goal of a sidequest due to its obscure location.
Another element the game focuses on is this idea of Influence with your party members. Players gain influence with other characters by the decisions they make, whether they are plot decisions or dialogue choices. Influence with particular characters rewards players with specific stat bonuses, such as Will or Agility. Every instance of where influence can be gained with a particular character is presented clearly within the cut scene sections of the walkthroughs, thereby making them very easy to find (see the scan of one of the pages to the right).
Following this idea of allowing players to pick which partymembers they want to "attach" to, DSIII also allows for players to customize their characters to fight the way that they like to play. As such, the guide does not advise players as to which character to select or which abilities to focus on for particular characters. In addition to the heavily detailed character sheets presented in the front of the guide–which list the characters' abilities, strengths, weaknesses, and the like–the guide makes general suggestions for how to select a character's proficiencies and talents, based on the player's experience with playing. For example, one of the tips early on in the walkthrough advises newcomers to DSIII to focus on defensive and healing abilities until they are comfortable with the play style of the game. That's really as far as it goes as to ability planning, which I particularly liked because I never felt that I was choosing the "wrong" character or the "wrong" abilities. The strategy guide never once said, "Use ___'s _____ attack," allowing players to freely play the game how they prefer instead of using the author's method as the only one. (See Final Fantasy XIII strategy guide.)
I've played games that allowed such deep character and party customization, but it's not often you find a guide that follows suit and doesn't try to pigeon-hole players into one character and one party.
Another point worth mentioning is that like the strategy guide for The 3rd Birthday, the Dungeon Siege III strategy guide proves that you can have an incredibly artistic design for the pages without detracting from the guide's usability. As you can see from the page featured above, all space of the page is filled in with artwork, mostly screenshots. However, it's done in a manner that doesn't impede upon the guide's text or walkthrough screenshots. It's still very easy to pick out the walkthrough text that you need, and the screenshots aren't sacrificed in terms of size or clarity to make way for the gorgeous artwork and even developer commentary (which is a fabulous bonus, by the way). Strategy guide designers, please look at both of these strategy guides as standards when trying to make the guides artistic.
With all of these fantastic elements, it pains me to point out that the Dungeon Siege III strategy guide grossly overlooked one pretty important appendix that all guides for current-gen consoles should have: a list of Achievements/Trophies with explanations and tips on how to obtain them. Even if all of the Trophies/Achievements are story markers and very obvious, every guide should contain a list of them at bare minimum.
As a result, this guide cannot be considered perfect. Highly recommended, though, to everyone looking to get the most out of Dungeon Siege III, especially those who are fans of the franchise and die-hard completionists.
SGR Rating: 4.5/5
Author: Stephen Stratton
Publisher: Prima Games
Editions available: Paperback
Acquired via Publisher