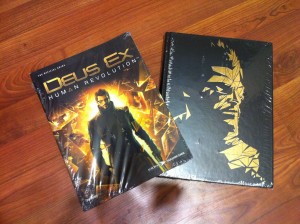 UPDATE! Winners have been chosen. Please check out the drawing below…
I was pleasantly surprised by an additional shipment this morning of not just one, but TWO Deus Ex: Human Revolution strategy guides. One is the paperback version, and the other is the gorgeous, hardback collector's edition.
Sooo, strategy guide giveaway, anyone?
Here's how this will work…
There are 3 ways to enter for this giveaway. At 4pm CST TODAY, I will draw one name from a hat for the Collector's Edition, and then the second name I draw will win the paperback edition. You can enter for the drawing by doing the following:
Remember that EACH entry will count has one entry in the contest, so your name could be in the hat up to 3 times.
Huge thanks to Future Press for making this giveaway possible.
Ready? Set? GO!
Congratulations, Nick and Blake! I'll be in touch soon regarding shipping!